AGNC Investment Corp. (NASDAQ: AGNC) has a history of dividend cuts and another round of book value losses and declining income could force the mortgage trust to cut its dividend again.
AGNC Investment is currently trading at a yield of 12.6%, indicating that investors are becoming increasingly concerned about the possibility of another dividend cut.
Given AGNC Investment's large first-quarter book value loss and rising risks to leveraged trust financing costs, investors should expect AGNC to trade at a lower valuation (P/B-multiple) going forward.
The central bank is moving aggressively on interest rates
Inflation has become a serious problem not only for consumers but also for corporations who are affected by inflation/interest rates in two ways: they are forced to deal with higher borrowing costs, which implies lower margins, and higher interest costs make debt-driven business models like AGNC Investment's more expensive.
In May, inflation rose to an annual rate of 8.6%, prompting the central bank to finally react by raising benchmark interest rates by 0.75 percentage points in June. It was the biggest increase in interest rates in 28 years.
With inflation remaining completely out of control, the central bank is likely to continue its aggressive rate hikes in 2022. Two weeks ago, Federal Reserve Chairman Jerome Powell expressed support for another 0.75 percentage point hike in benchmark interest rates in July, which would counteract inflation, on the one hand, while making debt service more expensive for businesses that rely on it, on the other.
Mortgage trusts like AGNC Investment rely on debt, despite the fact that the mortgage trust has already reduced its leverage from 9.4x as of March 31, 2020 to 7.5x as of March 31, 2022. AGNC Investment's leverage ratio remains high.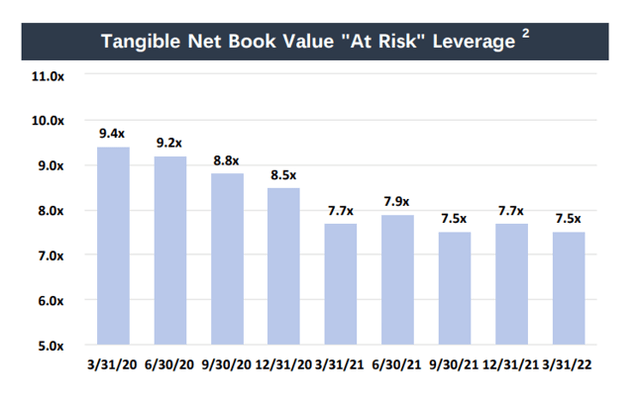 Losses in book value and multiple
Higher interest rates will make AGNC Investment's business more expensive, especially given the trust's reliance on debt to acquire mortgage assets.
AGNC Investment benefited significantly from loose central bank monetary policy during the Covid-19 pandemic, but borrowing costs started to rise in 1Q-22 and will continue to rise, suggesting a lower net interest spread for the mortgage trust in future.
The average cost of funds for the trust should rise further in the second quarter. If funding costs continue to rise, AGNC Investment may be forced to reduce its payout once again.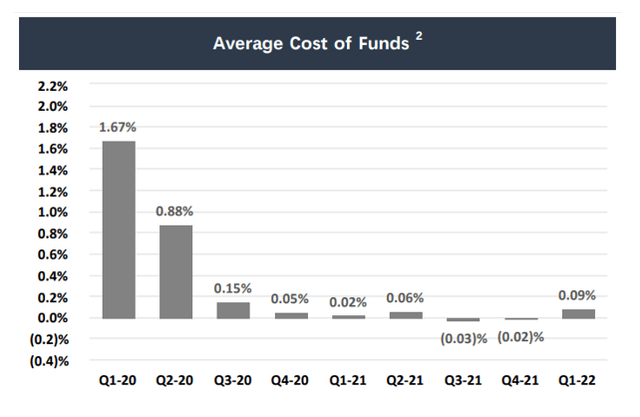 AGNC Investment has cut its dividend more than once before.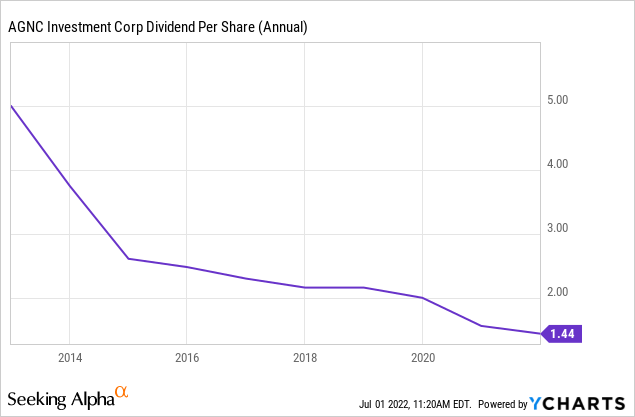 Unfortunately, the significant changes in the central bank's interest rate policy in the first quarter resulted in a significant loss of book value for AGNC Investment.
The mortgage trust had to report a 16% QoQ decline in book value, ending the quarter with a book value of just $14.12 per share. The book value of AGNC Investments has decreased by 25% since March 31, 2021.
It's pretty devastating for a mortgage trust to lose 25% of its book value in one year, and it should convince dividend investors that neither AGNC Investment's book value nor dividend is sustainable.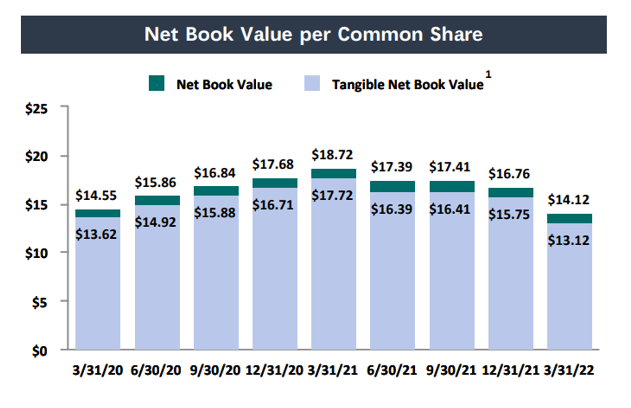 Given the risks of higher funding costs and lower net interest spreads going forward, as well as AGNC Investment's negative book value trend over the past year, the trust should trade at a much greater discount to book value than 21% that we are currently seeing. AGNC Investment's book value is likely to fall again in 2Q-22, meaning the effective discount to book value is less than 20%.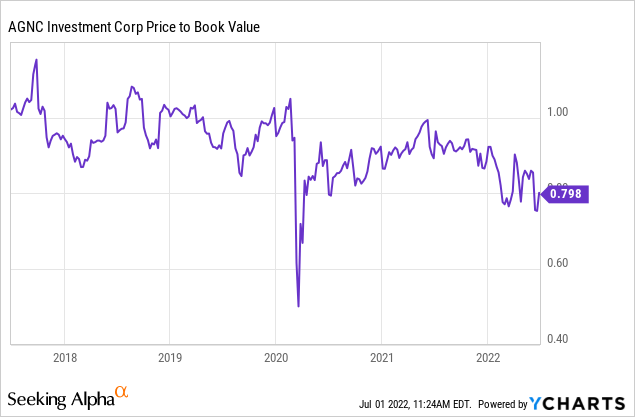 Why AGNC could see a higher rating
Higher interest rates are a drag on the corporate sector in general, but mortgage lenders in particular, because they rely so heavily on cheap debt to buy mortgage assets and profit from the difference between borrowing costs and investment income.
If the central bank suddenly decides to stop raising interest rates, perhaps to prevent the economy from slipping into recession, mortgage bonds could see renewed investor interest and lower book value discounts.
My conclusion
Mortgage trusts are in danger right now. Interest rates are expected to rise further in 2022, forcing mortgage trusts like AGNC Investment to absorb a significant increase in funding costs, which will reduce earnings. As the central bank is expected to raise interest rates further, AGNC Investment's net interest spread could narrow, necessitating another dividend cut.
These rate hikes are a problem for trusts like AGNC Investment, which has been a serial dividend producer, and could lead to even bigger losses in book value in the coming quarters.
I don't believe AGNC Investment's dividend is particularly safe here, and investors should prepare for another dividend cut in 2022.