Two College of Public Health (COPH) faculty mentored students during the Summer Undergraduate Research Program (SURP) at the University of Nebraska Medical Center.
Joseph Favre, PhD and Catherine Pratt, MS. mentoring students participating in SURP. The program gives students the opportunity to join research teams and see firsthand the wide range of research activities happening at UNMC.
Pratt mentored Gabrielle (Gabi) Estep, a Northwestern Missouri State University junior majoring in science with an emphasis in biochemistry, and Mohammad Salimi, a University of Nebraska at Omaha junior majoring in molecular and biomedical biology with minors in medical humanities and chemistry.
Gabby's research focused on collecting and testing samples from sewage treatment plants in Nebraska to see if they were present for various viruses.
"I really like environmental chemistry, so the wastewater project really piqued my interest. I think it's interesting to combine the chemistry of things with the biological things as well," Gabby said.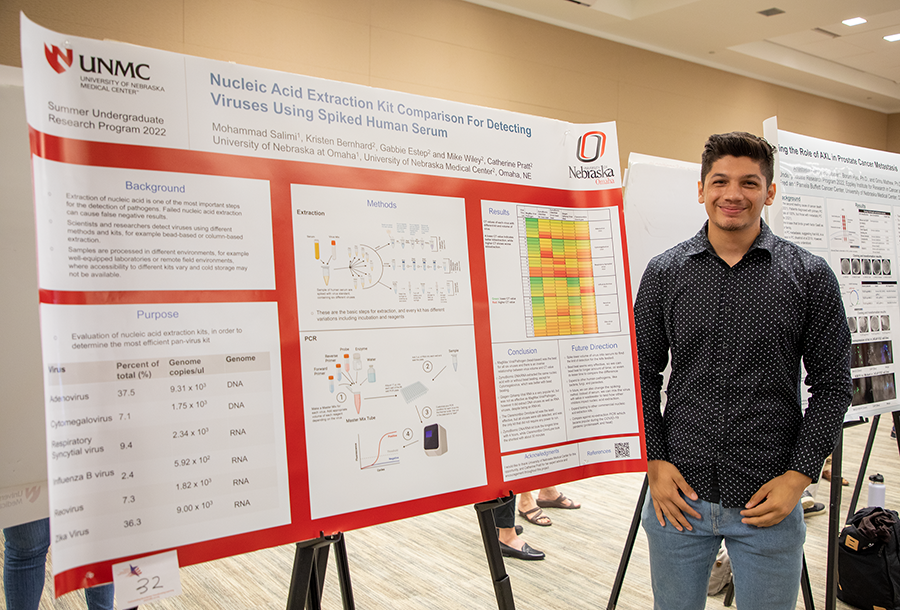 Muhammad spent the summer testing four different nucleic acid extraction kits and how they performed in different conditions.
"I had a test tube containing a mixture of viruses, and I was extracting the viruses. Then I would run the PCR to see which one would be most effective and compare how each works in different environments and how each has different conditions and rules," Mohammad said.
Pratt said both Gabi and Muhammad have done a great job this summer.
"I loved having them in the lab, they immediately settled into the team. It was great to have new personalities with so many questions," she said.
"I really enjoy seeing the students grow. Seeing them go from minimal experience in the lab at the beginning to managing their own day-to-day work at the end is very satisfying."
However, one project did not start smoothly, but Dr Pratt said it was a great learning experience.
"One project had a lot of early failures (because of the methods, not because of the student!). In a way, I'm glad it did, because one of the most important things you learn in the lab is to fail—because you're going to fail a lot! The student persevered, the project succeeded, and we got some super interesting data.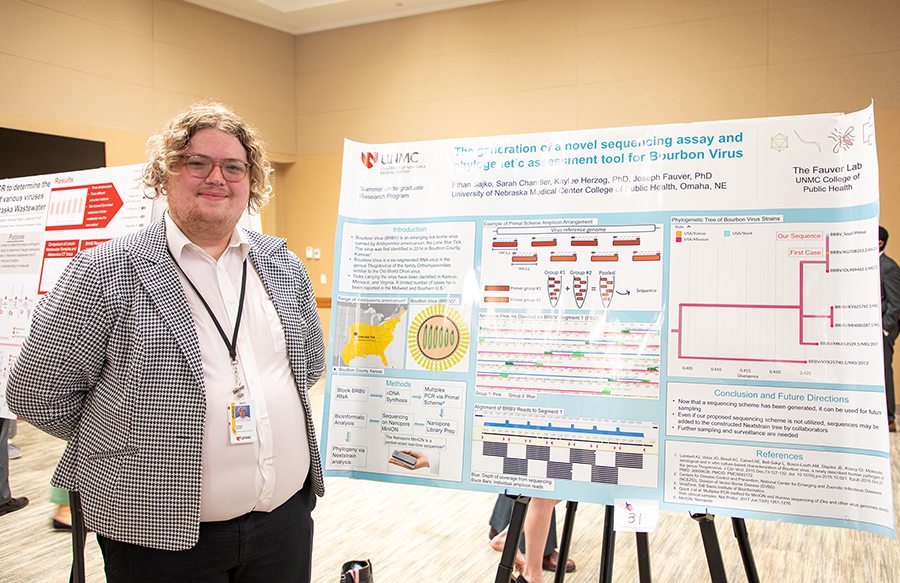 Favre mentored Ethan Saiko, a University of Nebraska at Lincoln undergraduate majoring in sociology with minors in biology, mathematics and psychology.
Ethan's research focused on sequencing the genetic information of the bourbon virus found in ticks.
"I also created a pipeline to use this genetic information to create an evolutionary tree to track how the bourbon virus changed in ticks," Eaton said.
Eaton said his research is similar to how variants and different strains of COVID-19 are tracked.
"I was excited about the topic because it allowed me to explore a technique called next-generation sequencing and genomic epidemiology. It's sort of the new "trendy" thing. COVID has really promoted it. I think this will be quite key to public health and epidemiology in the future.
To learn more about SURP, click here.
If you're considering participating in SURP in the future, Pratt says, go for it!
"This is a great opportunity to gain research experience. You get an income for the summer and find out what it's really like to work in a research team. You may be sure you want to work in research, or you may not be sure at all – but getting this experience can help you figure out if it's the career for you (or not!)."