Art is subjective. No one's definitions are the same.
Ricky Tenorio does great wall art. Beyond graffiti letters, Fazer Tenorio – the name he goes by as a graffiti artist – creates art with flowers, birds and cartoon characters. His goal is to share his spray paint creations, build a collective for Yakima area graffiti artists, and encourage the community to embrace graffiti art.
Fazer is part of the Once Again Crew, a group of graffiti artists trying to change their minds about what their art is and isn't.
"My thing is that graffiti art should not be seen as just group writing or tagging. Art is an eyesore to some people; to me, that's beautiful," Fazer said. "Somebody writes their name on murals and nobody plasters each other and that's stupid. Just don't make a habit of starting to do it in the wrong places."
It's not just about Fazer, it's about opening doors in Yakima for other artists as well.
"It's a small community of artists. We just toned it down and set an example," Fazer said.
Fazer imagines painting a bunch of beautiful murals everywhere that get slapped with tags, creating a beautiful atmosphere to prevent spaces from being re-tagged.
"It's better than scribbling and looking at smudges (of tags). It really gets on my nerves," Fraser said.
If he sees a tag, he will contact the property owner to talk about replacing it with a piece of art.
"If they say no, I'll wait a few months and if there's a few more patches on there – boy, it just starts to look uglier and so I keep asking business owners until they say yes or send me eff off, he said.
For Fazer, it's more than art. This is the community.
"It will benefit everyone, whether they like it or not." There's going to be people who don't like this art, but they're going to say, 'If this is there, this section here won't be graffiti anymore,'" Fazer said.
Driving the streets of Los Angeles as a 10-year-old, Fazer became fascinated by a graffiti mural near his grandmother's house. One piece in particular inspired him: "Hope" stretched across the wall. Every time he passed it, Fazer would go home and sketch the letters.
He drew often in elementary school. His father was a tattoo artist. Fazer's brother is also a graffiti artist and his cousin creates graffiti lettering. They made Fazer continue to perfect his art.
"I always follow their advice and always try to practice lettering, create my own lettering by appreciating other murals. Everything is great," Fazer said.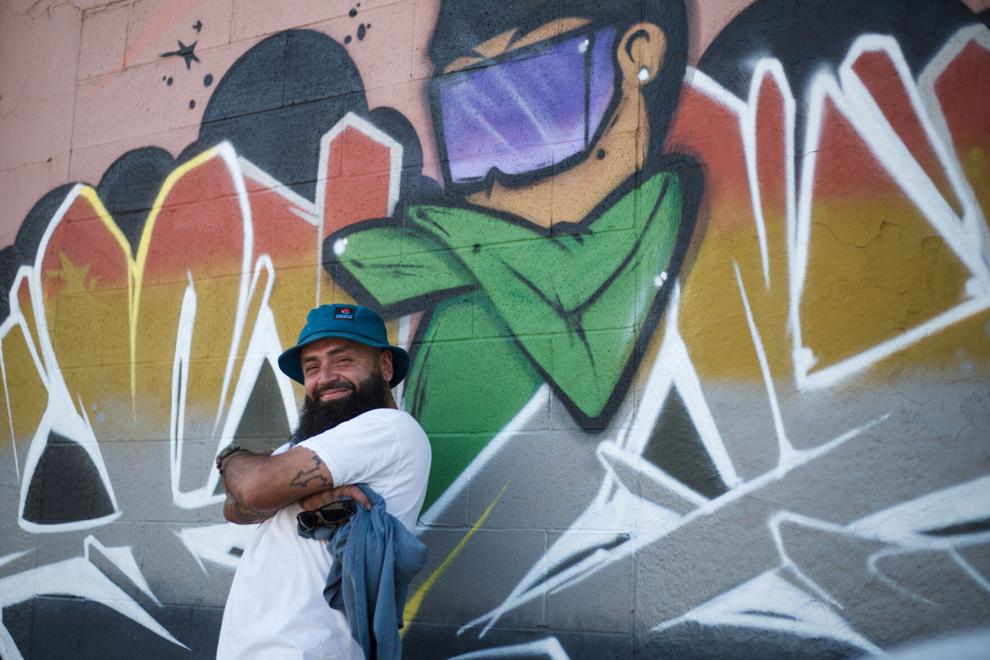 Facer has been in Yakima for 10 years and struggled when he wasn't creating his art, not knowing where it might go or how it would be received. It was hard to resist the itch, so Fazer bought some plywood boards to practice on in his backyard in Titon. He will use spray paint to project images of old cartoons from the 90s.
"Many of the neighbors would notice it and people who passed by called it the graffiti house. It motivated me and I was just trying to inspire myself to do more and more," Fazer said.
Facer started coming to Yakima looking for a place to share his graffiti in businesses. Jagz Barber Shop, 812 Summitview Ave., let him use the back of their shop. Fazer, his oldest son, a friend, and his oldest son all helped show the shop what they could do given the space and creative control.
The owner said to him, 'Yeah bro, you can paint here whenever you want,'" Fazer said. "So I grew out of that and started asking more businesses."
Fazer already has its eye on an old Subway store on North First Street. He paced back and forth, deciding which was the best approach. In order for his art to be accepted, he had to be seen by the community and law enforcement as someone trying to initiate positive change.
The design he spray-painted on the old Subway building was a blue bird with a red halo and a mint green background. The cops showed up, but not to arrest him.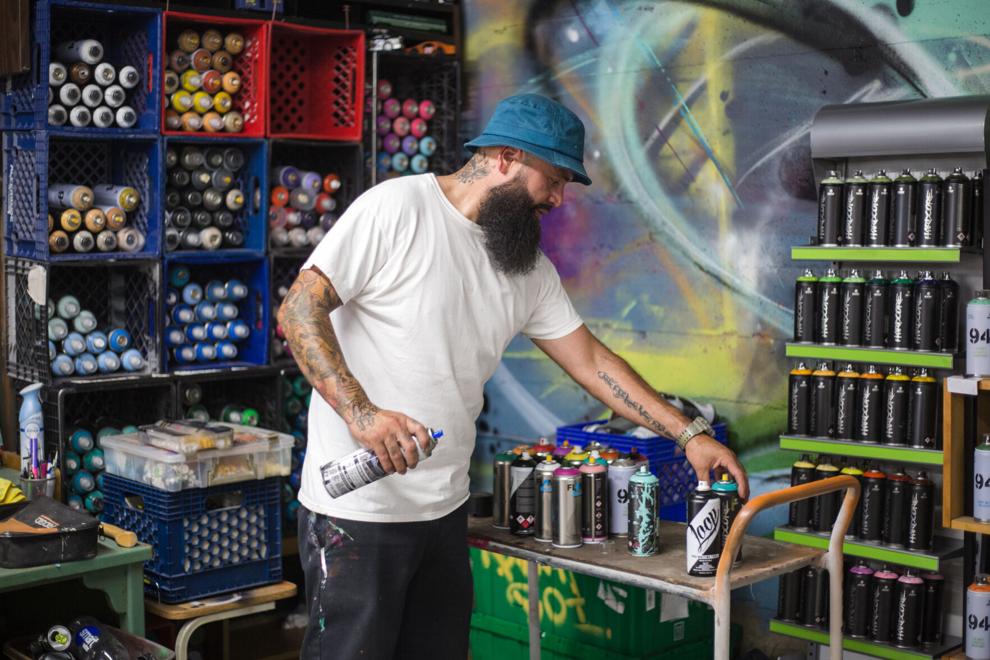 "They show up to tell me I'm doing a good job, and after about three minutes of talking to them, they happen to understand how the community can see me, my art, in a better way," Fazer said.
The encounter led Fazer to continue asking other businesses and people to put his graffiti on their walls.
"We shouldn't be shy, you know, just ask. If they say no – hey man. Just go to the next person. And they will eventually start to see it and start to say yes," Fazer said.
Fazer is committed to Yakima and can't imagine himself anywhere else. He appreciates the slower pace of life, living in a growing city and open-mindedness. "Graffiti art is accepted as art, you know, not just in Yakima. They see us," Fazer said.
"There is room for improvement, there is room for growth. I want to paint with different artists. I always approach people like, "Oh, come here. There's something to do here."
If a local or visitor stops to admire his work, they may notice a small business next door or a restaurant across the street that could benefit from his work. The artsy atmosphere could increase the appeal of these businesses and create more opportunities for him and the Once Again team.
"I just want everyone to see the art. I want to come in and say, 'Let's spruce it up,'" Fazer said.