Iit's easy to spot people with phones, kids with Chromebooks and laptops in coffee shops. Digital devices seem ubiquitous, but are they accessible to everyone? The internet connection at my home is excellent and my smartphone works almost everywhere. i'm lucky Many families in our communities have multiple barriers to entering the digital world. They can't afford electronics. Some rural areas simply do not have service. Some have service, but there is no one in the household with the proper technological skills. Sometimes language is a barrier. With these many issues in mind, South Sound Parent to Parent (SSP2P) has launched its new Equity in Technology, or EIT, program.
Bridging technology gaps in Mason and Thurston counties
South Sound Parent to Parent is creating multiple avenues to bridge technology gaps in Mason and Thurston counties. "I never understood the barriers," explains family resource coordinator Tonya Lunghofer, who works with families in rural areas. "It's just the everyday stuff that's hard." Some families get a tablet. If they don't know how to use it, support can be provided in English or Spanish. Others needed a signal booster to bring the Internet into the home. There is financial support for internet services. The new program now gives families the opportunity.
"Christina [an Early Support Specialist] taught me how to use the tablet he gave me," says one mother from a Spanish-speaking family. "We were able to maintain visits that I had to cancel because someone in the family was sick." Her child aged out of the early intervention program and transitioned to school services. "I don't drive, but because I had the tablet and was able to use Zoom," she adds, "I was able to meet with the school district and ask questions about preschool for my son."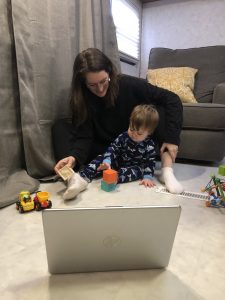 Angie Godinez is the Helping Parents Coordinator for SSP2P Spanish Speaking Families. Before working for SSP2P, she engaged their services. Angie knows firsthand how much it means to be able to connect with your community. She remembers that her children loved visiting with Tonya and home visitor Alyssa Erome. They were disappointed when the visits had to be cancelled. Having an internet option allows meetings to take place. Angie said she would love to be able to keep appointments and attend mom-to-mom groups, which she had to cancel when someone in the house was sick. Providing families with technological advantages is a priority for her.
Samantha Becerra, who is currently training to be a family resource coordinator and has a child in the program, shared that: "having the tablet that Angie gave me made it possible for me to participate in Mama con Mama virtual meetings. It was incredibly helpful because it was at a time when I was struggling and feeling very alone."
Give locally November 7-18 and increase your giving
Each year, the South Puget Sound Community Foundation hosts Give Local, a two-week online giving campaign to support nonprofit organizations that serve Thurston, Mason and Lewis counties. On a $100,000 contribution from the Dawkins Charitable Trust, there is a proportional match that increases each donation. Finally, all campaign donations are totaled. Each participating organization receives a portion of $100,000. For example, if a nonprofit raises 5% of the total during Give Local, that organization receives 5% of $100,000 or $5,000. There is a maximum of $7,500 per agency. "When you donate to Give Local, your dollar counts for more," says Victoria Skillingstad, fundraising coordinator.
You can go to the Give Local website to make a tax-deductible donation. It is possible to donate through your nominated fund or superannuation account. If you send a check, please make sure the name of your chosen organization is written on the memo line.
You can support South Sound parent-to-parent at any time, but your donation during Give Local has extra power. This year, Give Local will go directly to technology equity programs. "Please help give local families the jump start they need," pleads Victoria.
The 28 families currently served are only the tip of the iceberg. "We get more families every day," says Tonya.
Programs for families with special needs
In addition to technology support, South Sound Parent to Parent offers a variety of programs for families with children who have chronic illnesses, developmental delays or disabilities. Founded more than 30 years ago by parents and the professionals who work with them, SSP2P strives to understand the people it serves and continues to ask who is underrepresented or underserved. Challenges that people face on a daily basis have been identified. Professional services are tailored to the needs of each situation. The agency has support groups for moms, dads and siblings and has the ability to diagnose autism and offers many programs to help with early learning intervention.
You can find more information about all programs on the South Sound Parent to Parent website. Getting more information and donating online are two more examples of ways we rely on internet connections and digital devices. Bridging technology gaps matters.
Sponsored