If there's one good thing about getting older, it's that all the goofy things you liked as a kid are now prime nostalgia material. Framed poster for the original Power Rangers the movie isn't a sad craze for a kids tv show, it's retro chic! But there's a difference between just nailing up a bunch of old junk and decorating with intention. And the difference is, apparently, about two hundred dollars.
It's cynical, especially for someone who really has Star Trek paintings in his house. But I have to admit, Grid Studio's loving rendering of old technology as art is incredibly appealing to me, and I guess people like me. When I was offered the opportunity to review one of their framed, disassembled gadgets, I jumped at the chance for the original Game Boy Advance, which I think still hasn't been surpassed for both ergonomics and visual appeal.
Not quite museum-grade memorabilia
The package came in a stunning presentation, wrapped in high quality paper with tape sealed with real wax. If I didn't know what was inside, I would have thought they were sending me a box of chocolates worth more than my monthly car payment. After opening it up, I found a much cheaper shadow box, flat black treated wood and plexiglass with a plastic shipping protector.
The unit they sent me looks identical to the presentation on the Grid Studio website, down to the Indigo color of the GBA itself and the printing of Pokemon Ruby home screen. The various parts of the console have been lovingly cleaned and meticulously placed, and are clearly a real Game Boy Advance, at one point bouncing around a real kid's backpack. The plastic cover on the screen could be replaced, but the rest has some light wear indicating that this is the original item. That said, this GBA has not been abused – none of its imperfections detract from the piece as a whole.
The removed and glued parts are aesthetically pleasing, especially the white board. The labels are hardly necessary, but they are very clearly presented in an attractive pixelated font to make you remember all those hours you spent reading AA.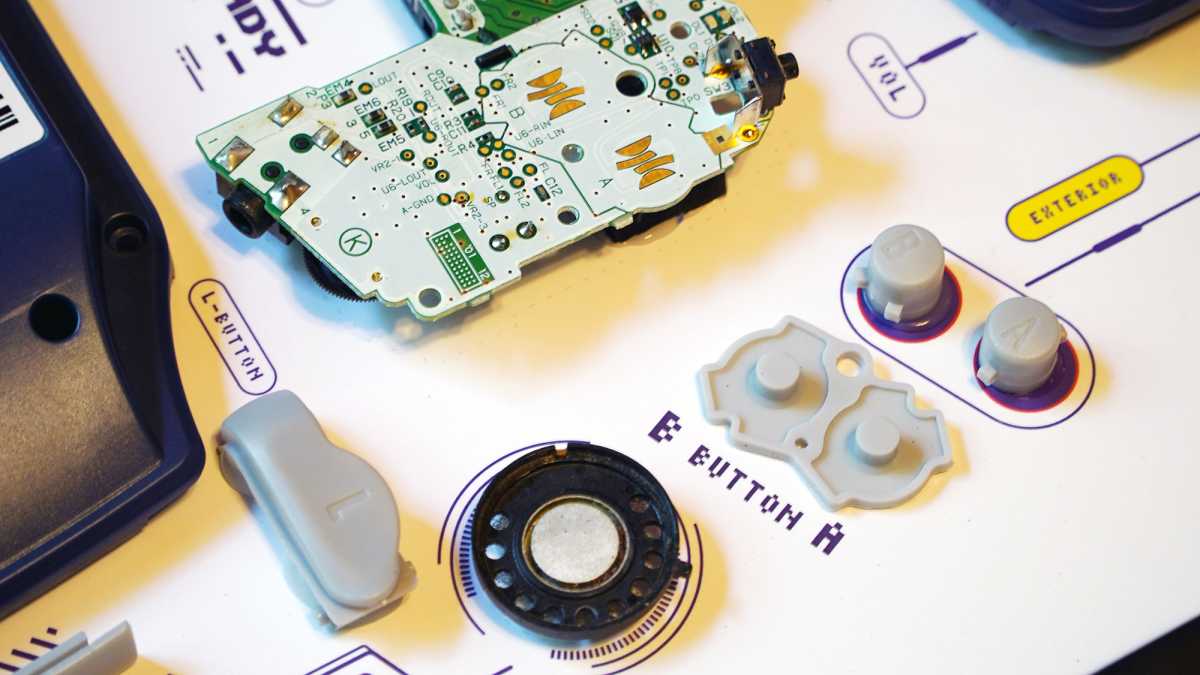 Michael Crider/IDG
Although this is an odd omission here: While I appreciate that sticking real zinc batteries on something intended for long-term display isn't a great idea, there's no mention of them anywhere on the label or fakes used in some of the phone designs. The LCD screen from the Game Boy Advance is also missing. This peek through the plastic cover is the only indication that it was ever there, despite the fact that we're looking at the front of the circuit board. Other presentations of the Grid Studio game also miss the screen panel and I'm not sure why.
Any color you want as long as you want purple
Those niggles aside, this is a very nice presentation, and presentation is what you pay for. That being said, I'd like the option to choose my Game Boy Advance body color (matching the translucent Glacier Blue of my memories) and perhaps a choice of game backgrounds or extra cartridges (Dodgeball forward is what I remember most). But as a product that needs to be manufactured in at least some volume in China, I appreciate that they can't be customized for everyone.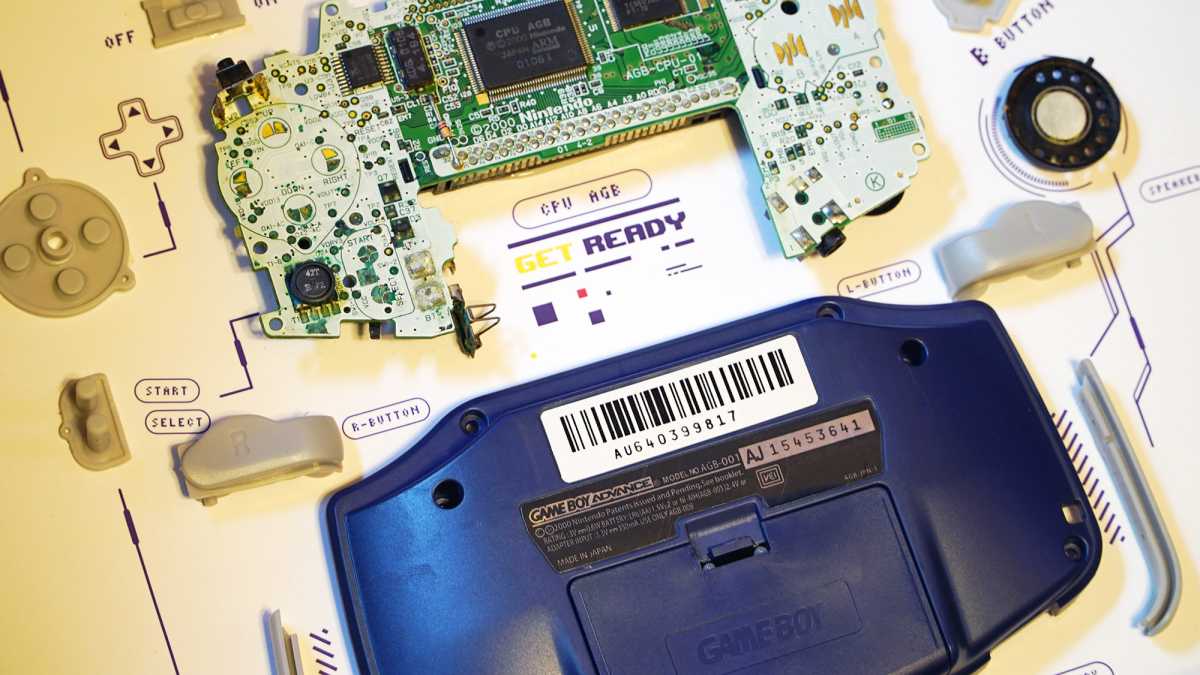 Michael Crider/IDG
The shadow box feels a little cheap for the price, especially considering the packaging it came in, and the included hanging brackets don't inspire much confidence. It would be easy enough to move the pad to something fancier if you wanted – the GBA parts stayed impressively still during shipping.
A good gorgeous gift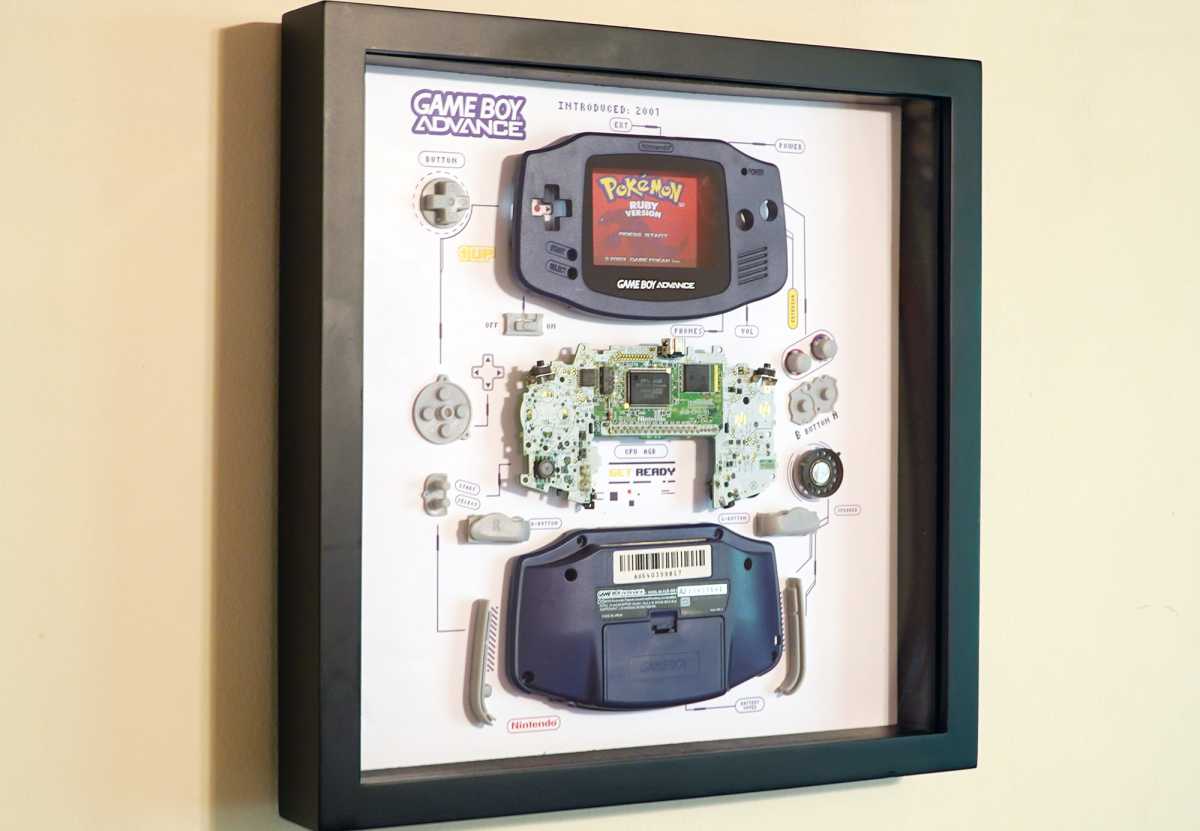 Michael Crider/IDG
Overall, I'd say GRID Studio's presentation is extremely slick, cheap shadowbox aside. If your decorating budget can handle it, it would look great displayed in a series. The company offers more or less all of Nintendo's classic handhelds, plus various generations of iPhones and other popular cell phones, and a few odd gadgets like the Apple Watch. Unfortunately, there is no option for the original Zune.