Of the core units of the Indiana State football team? No one has more local representation than the offensive line.
Three of ISU's 17 offensive linemen have ties to the area — Carter Herrin and Griffin Comer of Terre Haute and Logan Bartley of Paris, Ill.
They are all at different stages of their careers. Herrin played and started for the Sycamores. Comer, like Terre Haute South's Herrin, has been waiting a long time for his turn after missing a season of future action due to the COVID-19 pandemic. Bartley, fresh off the successful Paris program, is just getting started.
They fit into an overall ISU offensive line that has plenty of experience, albeit one that has dealt with injuries both past and present. During Tuesday's practice, ISU's first with full pads, three expected starters were out, though none have season-threatening injuries.
Herrin, who has been with the ISU program since the 2018 season, is the only one of the local trio with game experience. He has played in 16 career games for the Sycamores, including six starts during the 2021 season. Herrin started at both left and right tackle in 2021.
Herrin sees himself as a microcosm of where the line needs to improve as a whole.
"I feel like as a whole offense, we're getting better every day and I'm getting better every day. We are focused on physics because last year we didn't have that advantage. This year we want to get that advantage back because we want to run the ball at will," Herrin said.
How does Herrin individually fit into the unit's objective? ISU coach Curt Mallory explained that both Herrin and Comer have tweaked their bodies — mostly to lose weight — to better fit the overall philosophy of what the offense wants to do in 2022.
"We thought we were slow with the ball last year and that hurts the physical part of it. Losing that weight helps us break off the ball easier and faster so we can attack and push the ball easier," Herrin explained.
This aligns with what Herrin wanted to improve on individually. Herrin didn't start as an offensive lineman at ISU, so much of his early years were spent learning the position. He's comfortable as a linebacker now, so he's improving his game.
"The only thing I wanted to do [in the offseason] I had to be a starter and I wanted to be more physical. That's been a downside for me since moving to offensive line. I have had the physical strength to punch, but not consistently. Now that I know the whole offense, it's time to take the next step in the physical aspect," Herrin said.
For Comer? He had to wait a long time to get into the action. As part of the high school class of 2020, the COVID-19 pandemic has really had an effect on athletes across all sports this particular school year.
Comer spent the 2020-21 season practicing with the rest of the Sycamores when the season ended up not being played. He then redshirted the 2021 season.
Now he's playing, and the bottom line for Comer is that when you factor in the COVID amnesty, he still has four years to play while having two seasons to learn the ropes.
"It's been a long time. I took it as a day that way when your time came? Are you prepared," Comer said.
Mallory was impressed.
"I'm really happy with Griffin. The thing he really benefited from not playing last year was his winter training. He's gotten bigger and stronger and hasn't missed a workout. He's changed his body and he looks great," Mallory said.
Comer also switched roles. With expected starter Jackson Byrne out, Comer ran with the starters at the center position.
"We moved it [to center] in the spring and it was a learning experience, but he worked on it over the summer. He was cast and that's just how he works with those," Mallory said.
Comer credits his teammates for helping him transition to repeating with the starters. On the other hand, Comer has waited so long that he's a veteran in every sense except playing time.
"You have to get used to these at first. It becomes more natural and it's good to do more reps than standing on the sidelines," Comer said.
As for Bartley? He just exudes confidence. Projected as a guard, Bartley is getting more reps than expected with Jose Vazquez IV out of practice. Bartley, a part of some very successful Paris Tigers teams of late, is at a point where the thrill of playing college football is something that hasn't faded for him.
"It's going great. There's nothing better than that, but whether you're a freshman or a fifth-year, it's the same mindset every day: work hard and get better every day," Bartley said.
Mallory singled out Bartley for praise because he is straight out of central offensive lineman casting. At 6-foot-4 and 300 pounds, he's quite the physical specimen for a true freshman.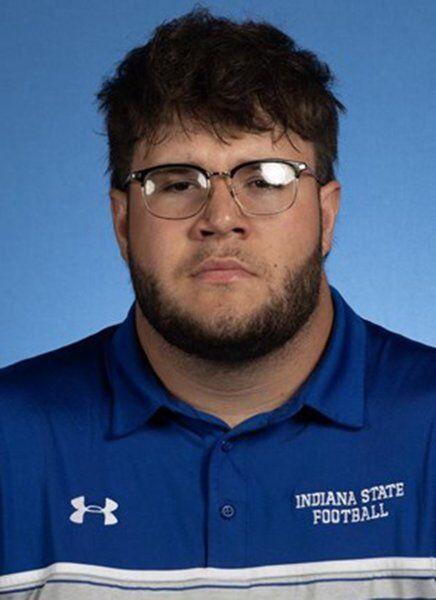 "He's where he needs to be as a freshman. He is physically ahead of most, but mentally he is quick. It's slow for him, but he's doing a really good job and he's going to be a good player for us," Mallory said.
Bartley specifically cites his local roots when it comes to the comfort level of being a Sycamore.
"I'm a local and I've known Terre Haute and this place my whole life. I grew up in a great place in Paris. It was an easy transition as far as school and soccer," Bartley said.
Bartley is under no illusions that the transition to college ball will be easy. He noted that he needs to have a "next chapter" attitude and that he has turned the page on his successful career in Paris, but he is also not holding back in his aspirations.
"I'm shooting for the sky. I want to start. I have to learn some technique, but that's my goal, to get started," Bartley said.
• Camp progresses to full pad training — The Sycamores had their sixth practice of preseason camp, but their first in full pads. Mallory pointed out that the defense has outpaced the offense thus far, but Tuesday showed signs that things are becoming more even.
"I thought today was the first day where the offense started faster than the defense, but unfortunately we didn't finish it the way we should have. We have some young guys that made some catches and some older guys that need to make some catches. You catch a touchdown in two minutes and you catch that one in the scrimmage, you're probably going to finish that [series]Mallory said.
Mallory was referring to a fall in the end zone by Dakota Cato in ISU's two-minute end-of-practice drill and a fall by Harry Van Dyne during the portion of practice where ISU was playing live.
Injuries have mostly been limited to the offensive line and secondary, although only one, the injury to nickelback JP Osafo, is believed to impact season availability. Mallory is trying to make the most of the injuries.
"I think we're ahead on our defense with our depth. We're not that experienced on the offensive line and when you have three starters who's going to come back, it's good for the other guys because they're going to play I've seen guys that have had more reps improve," Mallory said.
ISU camp technically ends next Monday as ISU classes begin Tuesday, but practices will continue regularly until ISU hosts North Alabama on Sept. 1.