Jagger Eaton said he owes all of his success to KTR — and he's had a lot of it. The 21-year-old made history last year as the first US skateboarder to win an Olympic medal with his bronze in the men's street final at the Tokyo Olympics. He followed that up this year with his first X Games gold medal, 10 years after being the youngest X Games competitor.
Eaton was only 11 when he climbed the 80-foot MegaRamp at the X Games, but he had already been skateboarding for seven years after his father, Jeff Eaton, built a ramp at the gym he ran in Mesa, Arizona. Jagger Eaton and his brother Jett's interest in skateboarding spurred the development of what would become KTR, an indoor sports center that now has four franchise locations and growing.
"It was a dream childhood," Ethan said of learning to skateboard at KTR, short for Kids That Rip. "It's a safe environment where you can skate indoors for 12 hours," something unique and necessary in Arizona, where temperatures can reach 120 degrees. It was at KTR that Ethan said he learned to train like an athlete and elevate his skating beyond the level of a recreational activity.
"I consider myself an athlete. I live like an athlete, train like an athlete, eat like an athlete," he said. "I'm on my way for a two hour swim right now."
Although not intended to be an Olympic training ground for skateboarders, Geoff Eaton designed KTR to bring some structure and real training to the sport. The son of world trampoline champion Mark "Stormy" Eaton, Jeff Eaton, an elite gymnast in his own right, took over Desert Devils Gymnastics in Mesa after his father's death in 1995.
"I knew elite gymnastics myself … I had a really good understanding of developing a curriculum and safely teaching people tricks at a very young age," Ethan said. What started as a few ramps at the Desert Devils gym eventually became KTR, with the first stand-alone facility opening in Mesa in 2004.
"It's turned into a full-on school," Ethan said, with kids skating six hours a day. It added a parkour-style program with obstacle courses, slacklines and more, plus tumbling floors, trampolines and sports courts. By 2014, "I felt we had mastered how KTR could work as a franchise," he said. Enter Ron Sciarro, co-founder of Aqua-Tots Swim Schools.
"I've known Jeff forever. We went to high school together 30 years ago," said Schiaro, who with Paul Preston started Aqua-Tots in Phoenix and grew the swim school franchise to more than 120 locations. "The first Aqua-Tots pool was actually in Jeff's gym."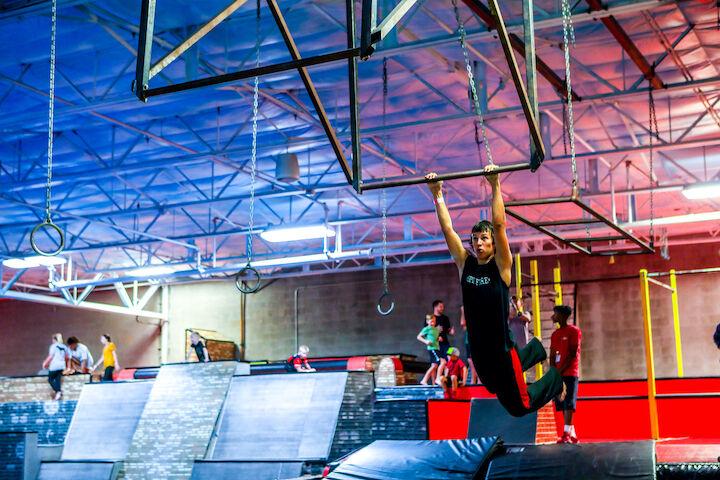 Sciarro was intrigued by KTR's concept, which, like Aqua-Tots, helped kids develop skills and stay active while having fun. Now as managing partner and head of franchise development, Sciarro helped refine the KTR model, which combines skateboarding, parkour, scooter, acrobatics and trampoline classes with group event and party rental and membership options.
Three Arizona franchise locations are open, in Mesa, Chandler and Scottdale, with a Phoenix center coming soon, plus one in Midvale, Utah. One of the 40,000-square-foot facilities cost about $3 million to build, Schiaro said, "and we're really sensitive about not growing too fast. Opening one or two a year is the pace."
Other children's entertainment franchises like Sky Zone and Urban Air Adventure Park have more than a hundred locations each, but Eaton views these concepts more like indoor playgrounds. "People try to put us in the box of a trampoline park," he said. Yes, "that Disneyland-looking center" and play is important, but so is skill development.
"The people on our team are the elite of the elite, and we know how to advance skill development," he said. "Everything from a drop to a 540 on a 12-foot ramp. Our goal with KTR is to provide the best training and education."