While many real estate investment trusts (REITs) have had a rough start to the year along with the general market, that's not the case for the top-rated REIT we'll discuss below. REITs are lucrative investment vehicles and continue to be a great way to balance portfolios while gaining exposure to the real estate market. Adding these inbound investments can lead to significant advantages over traditional real estate investing, including increased liquidity, greater diversification, tax benefits and potentially higher returns with lower risk.
Real estate investment trusts own or manage income-producing real estate, usually by directly investing in real estate or mortgages on that real estate. The IRS requires REITs to pay out 90% of their taxable income to shareholders. This typically translates into much higher dividends than your average S&P 500 stock. One of the best ways to increase your returns when investing in a REIT is to compound the dividends you receive. Investors can also choose to use a Dividend Reinvestment Plan (DRIP), which automatically reinvests dividends received in additional shares.
Investors have the option of buying REITs directly or they can choose to further diversify by investing in REIT ETFs or mutual funds. REITs not only offer above-average returns, but also the potential for future price appreciation. One potential problem for REIT investors is their sensitivity to interest rates, and given the recent chatter about more rate hikes ahead, this begs the question – how do REITs perform in periods of rising interest rates?
We looked at six different historical periods over a 30-year period in which interest rates rose, as measured by the 10-year Treasury yield. During these times of rising interest rates, REITs generated positive returns in four of them, while outperforming the overall stock market in three of the cases. Our research shows that a rising interest rate environment does not lead to lower REIT prices. This is mainly due to the fact that during economic expansion the value of prime real estate increases.

Image source: Zacks Investment Research
Now that we've established that REITs can outperform even in rising interest rate environments, let's take a look at high-performing REITs that are outperforming the broader market. This REIT is a Zacks Rank #1 (Strong Buy) with significant exposure to agricultural markets. It is a component of Zacks REIT and Equity Trust – Another industry group that currently ranks in the top 36% of approximately 250 industries.
Investing in shares of leading industry groups can provide a constant "tailwind" to our investment success. As this industry ranks in the top half of all Zacks Rank industries, we expect this group to outperform the market over the next 3 to 6 months. Also note the favorable rating for this industry group below:


Image source: Zacks Investment Research
Farmland Partners, Inc. (FPI – Free Report)
Farmland Partners operates as a real estate company that owns and acquires high-quality farmland in North America. FPI provides loans to farmers that are secured by agricultural real estate. The company owns approximately 155,000 acres of farmland in 16 US states. FPI has over 100 tenants and boasts 26 different types of crops on its farms, such as corn and soybeans.
FPI has achieved average profit growth for the last four quarters of 6.39%. Analysts have raised their full-year EPS estimates by 3.85% over the past 60 days. The Zacks Consensus Estimate now stands at $0.27 per share, which would represent a whopping 2,600% year-over-year growth rate. This REIT has advanced 18.92% year-to-date, easily outperforming the overall market.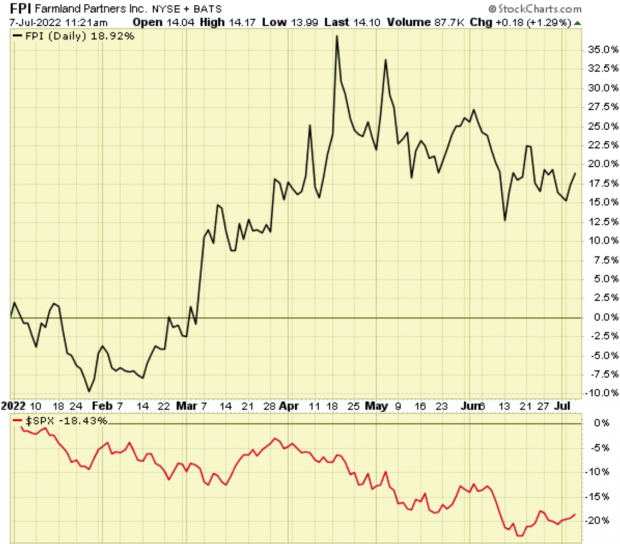 Image source: StockCharts
What the Zacks Model Reveals
Zacks Earnings ESP (Expected Surprise Forecast) identifies companies that have recently witnessed positive earnings estimate revision activity. The idea is that this newer information can serve as a better predictor of the future, giving investors a leg up during earnings season. When combining a Zacks Rank #3 or higher with a positive earnings ESP, the stock delivered a positive surprise 70% of the time according to our 10-year backtest.
With an Earnings ESP of +20.0% and a Zacks Rank #1 (Strong Buy), earnings may be beat for FPI investors when the company reports on August 3rd.
Be sure to keep an eye on this high-performing REIT and how it's performing during this era of rising interest rates.