The chart of the day belongs to the diagnostics and research company Meridian Bioscience (VIVO). I found the stock by sorting the list of Barchart's best stocks to own first by the most frequent number of new highs in last month, then used the Flipchart function to review the charts for a steady increase in price. Since the Trend Spotter signaled a buy on 6/6, the stock has gained 12.18%.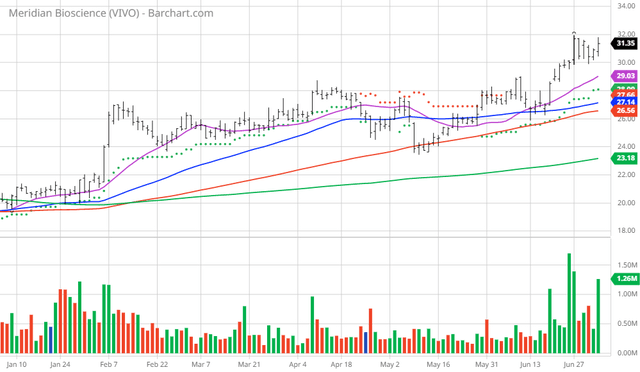 Meridian Bioscience, Inc., a life science company, develops, manufactures, distributes and markets diagnostic test kits primarily for gastrointestinal and respiratory infectious diseases and elevated blood lead levels worldwide. The company operates through Diagnostics and Life Sciences segments. The Diagnostics segment offers testing platforms including real-time PCR amplification under the Revogene brand; isothermal DNA amplification under the brand name Alethia; lateral flow immunoassay using Curian brand fluorescence chemistry; rapid immunoassay by ImmunoCard and ImmunoCard STAT! brands; enzyme immunoassays under the brand name PREMIER; anode stripping voltammetry under the LeadCare brands; and the H. pylori urea breath test under the BreathID and BreathTek brands. This segment also offers tests for respiratory diseases, such as tests for group A strep, mycoplasma pneumonia, influenza and pertussis; and blood chemistry products for LeadCare blood lead test kits. It sells products through direct sales and independent distributors to acute care hospitals, reference laboratories, outpatient clinics and physician office laboratories. The Life Science segment offers group antigens, antibodies, PCR/qPCR reagents, nucleotides and bioassay reagents used by in vitro diagnostic manufacturers as well as researchers in immunological and molecular testing for human, animal, plant and environmental applications. Meridian Bioscience, Inc. was incorporated in 1976 and is headquartered in Cincinnati, Ohio.
Barchart Opinion Trading Systems are listed below. Please note that Barchart opinion indicators are updated live during the session every 20 minutes and therefore may change during the day when the market fluctuates. Therefore, the indicator numbers shown below may not match what you see live on the Barchart.com website when you read this report.
Barchart Technical Indicators:
100% technical buy signals but rising
57.90+ Weighted Alpha
42.69% profit in the last year
Trend Spotter Buy Alert
Above its 20, 50 and 100 day moving averages
8 new highs and a growth of 15.79% in the last month
Relative Strength Index 64.47%
Level of technical support 30.38
It recently traded at $31.35 with a 50-day moving average of 27.14
Main factors:
Market cap $1.35 billion
P/E 20.84
Revenue is expected to grow 7.30% this year
Earnings are expected to grow at an annual rate of 17.00% for the next 5 years
Analyst and Investor Sentiment – I'm not buying stocks because everyone else is, but I realize that if big companies and investors are dumping stocks, it's hard to make money swimming against the tide:
Wall Street analysts have 2 views on the stock
Analysts give an average price target of $30.00
Individual investors following the stock on the Motley Fool voted 442 to 15 for the stock to beat the market, with more experienced investors voting 54 to 4 for the same result
4,910 investors monitor Seeking Alpha stock
Summary of assessments
Factor scores
Quantitative ranking
Sector
Healthcare
Industry
Consumables for healthcare
Ranked overall
901 of 4,624
Classified in a sector
161 of 1148
Ranked in the industry
5 out of 35
Quantitative estimates outperform the market »