NEWS | CHARACTERISTICS | OVERVIEW | EVENTS
originally published: 18.06.2022
(CAMDEN, NJ) – Particle Kid, also known as Mika Nelson, and his legendary father Willie Nelson in a duet on the new single "Die When I'm High (Halfway To Heaven)". The two will set off next week as part of Outlaw Music Festival, in the US until September. The tour ends on September 23 at the Waterfront Music Pavilion in Camden. A limited edition, wood-carved single from "Die When I'm High (Halfway To Heaven)" will be available exclusively on the shows. Chris Stapleton, Zack Brian, Larkin Poe and Britney Spencer are also part of the festival.
Discussing the creative spark behind the track, Mika suggested: "Sometime in December 2020, between the endless rounds of chess and dominoes, my father looked at me and said, 'If I die when I'm high, I'll be halfway to heaven.' It took me a second to process, but I said, "Dad, this is the best song title I've ever heard. Better write the rest quickly. He said. "Why don't you write it?" That's what I did. That night I wrote it for him, for him. It's really just a love letter to him. In honor of.
At the same time, I realized that this is also something like "fuck you" for anyone who once thought of me as a lost prodigal son who did not understand and respect his legacy, just because I never imitated his style or not. I succumbed to his audience. He is the one who gave me my nickname Particle Kid after all. "
Mika continued: "We are both freaks in our time. I am not a prodigal son. I am HIS Particle Kid. I would never try to be him or even pretend because no one will ever be him. But believe it or not, I have a relationship with Willie's fans because I'm one of them. They know how amazing and unique he is. So this song is for true Willie fans. They understand it.
"I cut the video together using a combination of time-lapse shots I shot on Luck, concert shots where my father and I performed the song live, and some animated portraits I created digitally of him at different times in his life.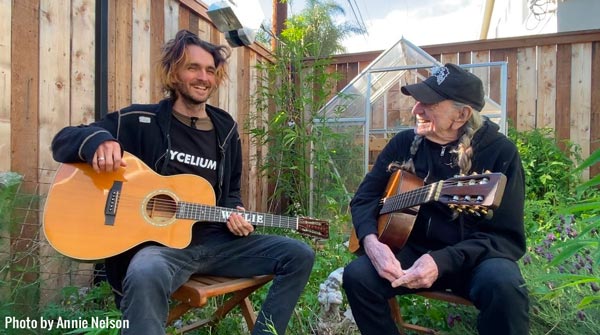 Advertise with the New Jersey Stage for $ 50- $ 100 per month, click here for information
---
Mika Nelson has released his experimental, psychedelic, future folk magnum opus, Time capsule, under his pseudonym Particle Kid in April. A musical journey with 26 songs through time, space and consciousness. It is available digitally, on CD and inside a limited series of hemp concrete time capsules, forged by Mika himself. Time capsule takes listeners on a journey through different genres, ideas and sounds – an eclectic palette of sound colors, familiar and exploratory. Feelings drawn together as a collage, like an alto from the 90's, psyche from the 60's, electric jazz from the 70's and some abstract future are all magazines – cut and somehow glued together by Mika's voice and lyrics.
Dates of the Outlaw Music Festival:
24.06 – St. Louis, Missouri @ Hollywood Casino Amphitheater
06/25 – Grand Rapids, Michigan @ Van Andel Arena
07/01 – Rodgers, AR @ Walmart AMP
07/02 – Dallas, Texas @ Two Equis Pavilion
07/04 – Austin, Texas @ Q2 Stadium
July 29 – Cleveland, Ohio @ Blossom Music Center
July 30 – Cincinnati, Ohio @ River Bend Center
08/12 – Gilford, NH @ Bank of New Hampshire Pavilion
08/13 – Bethel, New York @ Bethel Woods Center
Advertise with the New Jersey Stage for $ 50- $ 100 per month, click here for information
---
08/14 – Darien, New York @ Darien Lake Amphitheater
09/09 – Atlanta, Georgia @ Ameris Bank Amphitheater
09/10 – Charlotte, North Carolina @ PNC Music Pavilion
09/11 – Virginia Beach, Virginia @ Veterans United Home Loans Amphitheater
09/13 – Bridgeport, CT @ Hartford HealthCare Amphitheater
09/16 – Boston, Massachusetts @ Xfinity Center
09/17 – Columbia, MD @ Merriweather Post Pavilion
09/18 – Saratoga Springs, New York @ SPAC
September 23 – Camden, New Jersey @ Waterfront Music Pavilion