The University Science Instrument Center (USIC), located on the North Campus of the University of Delhi, announced on May 1 a list of fees for laboratory instruments to be used by PhD students. Students are now expected to bear the costs incurred in conducting experiments as part of their research. Fees range from Rs 150 per sample for electron microscopy to Rs 500 per hour for modulated differential scanning.
The students were surprised when they were handed the tariff cards. However, after the announcement, USIC was closed. A doctor of physics said: "Since the establishment of USIC in 1984, no money has been charged for the instruments and the costs have been covered by funds allocated to student leaders and lecturers by the University Scholarship Commission (UGC) / Research and Industrial Council (CSIR). "
The best of Express Premium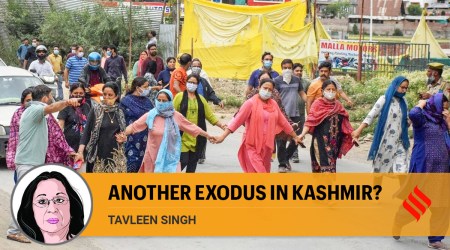 It is feared that research will be affected
A third-year doctoral student in chemistry explained how this move could affect research. "While doing research, we synthesize materials that require 15-20 attempts to achieve the desired result, which must be further characterized with the help of tools. If each sample costs us money, it will discourage us from trying more, which will ultimately lead to poor quality results. "
"If we stick to these fees, our daily expenses can reach Rs 500 for experiments," said another PhD student in physics. A fourth-year doctoral student in chemistry said: "Universities have become markets and students are their customers."
Everyone requested anonymity while talking to indianexpress.com. Bhavani Shankar, an assistant professor of chemistry, said the "already deplorable" state of research had dealt a mental blow to students. Shankar said: "Although students are pursuing doctorates, the quality of research is not up to standard.
Due to lack of funds, many students simply want to complete their studies, he said. These students end up getting teaching jobs that do not promote research.
Nearly 250 students sent a letter to Deputy Chancellor Yogesh Singh asking him to look into the matter. In the letter, the students said that the research groups have very limited funding, including the reserve fund provided by UGC or CSIR. The students told indianexpress.com that the annual reserve fund of Rs 20,000 is insufficient. And the fund is only available to researchers who have qualified for the UGC's Junior Research Fellowship (JRF).
A third-year doctoral student in botany said: "According to this list of fees, the average annual cost per chapter for experiments and research will be 60-70,000 rupees.
Students from marginalized backgrounds are considering whether to discontinue their studies. A master of zoology said, "Many students in my group who are planning to do a doctorate are willing to give up their dreams, especially those of lower economic origin."
In the letter, students also expressed concerns about how the new fees will affect their career prospects, as well as the chances of doing postdoctoral research.
Prominent institutions
Students at other central universities, such as Jawaharlal Nehru University and the Miliya Islamiya Mosque, said the institutions maintain a list of fees for laboratory experiments. They are different for internal and external students. A doctoral student in chemistry from the JNU said that the costs incurred during the study were not covered by the students.
As the DU has been declared a "high-ranking institution", students ask why the funds provided by the UGC are not used effectively for research. Professors are also worried that charges could rise in the future. "The state of research is already pathetic and this move will make it worse," said Keshav Kumar, an assistant professor of chemistry at the university.
"After the fierce competition, these students secure places in central universities such as DU. If they are asked to pay out of pocket, then what is the use of coming to government-funded institutions? " Kumar asked. "It will also lower the overall ranking of our institute," he said.
Contacting USIC Director S Murugavel told indianexpress.com: "These are just maintenance costs." He did not answer further questions. Posters with the words "save research, save researchers" in their hands, students protest in front of the vice-rector's office and try to meet with him.
Kumar, the assistant professor, said it was also difficult to mobilize PhD students for the cause, as they would be mostly busy with their research work. DUSU, the university student union, joined the protest and met with officials demanding a reversal of the charges.
The writer is an intern at Indian Express.