North Beach has deep counterculture roots. So perhaps it's no surprise that an underground gallery and public art space dedicated to punk rock recently opened on a quiet street off Grant Avenue. You won't find a mosh pit in Fallout SF. But you might hear your favorite punk band as you descend the stairs leading to the venue's appropriately dark basement. And you'll definitely find plenty of irreverent, thought-provoking creations from more than 30 punk and underground artists.
"A lot of people have asked why we're not in the Mission or SOMA, but being in an underground space in North Beach is perfect for what we do," says Farida Mazlan, an art curator who runs Fallout SF with her partner, artist Craig Vincent. "He's super intellectual and has such a rich history of art and counterculture. We are honored to be here."
Fallout SF co-founders Farida Mazlan and Craig Vincent. | Photo: Dorothy O'Donnell
Fallout SF evolved from Destroy Art, the international punk art management agency and online store that the duo formed in 2020. Just before the pandemic lockdown, they organized a successful exhibition featuring works by 25 artists, including Vincent and their friend, well-known surrealist collaborator Winston Smith.
"We had 250 pieces of art in a little place in the Castro," Mazlan tells Hoodline. "It was really great – more than 700 people came. One week later, COVID struck. And I was like 'what are we going to do with all this artwork?'
They decided to move everything to an online platform and thus Destroy Art was born. The opportunity to expand their efforts to support emerging and established underground artists with a physical location also arose from the pandemic. And of their friendship with Smith. He was the previous tenant of the space that now houses Fallout SF, using it as a studio and gallery for 13 years. When COVID hit, he decided to leave town and move to Mendocino. So he offered the place to Mazlan and Vincent.
"We wanted to transform it into a public space where we could organize exhibitions and other events to support local arts," explains Mazlan. "We want this to be a platform for musicians and artists who don't really have a lot of representation in the city in terms of their style of art."
Smith is among the artists featured in Fallout SF. As well as being a collaborator, he is also a respected punk designer who has worked with the likes of the Dead Kennedys and Green Day.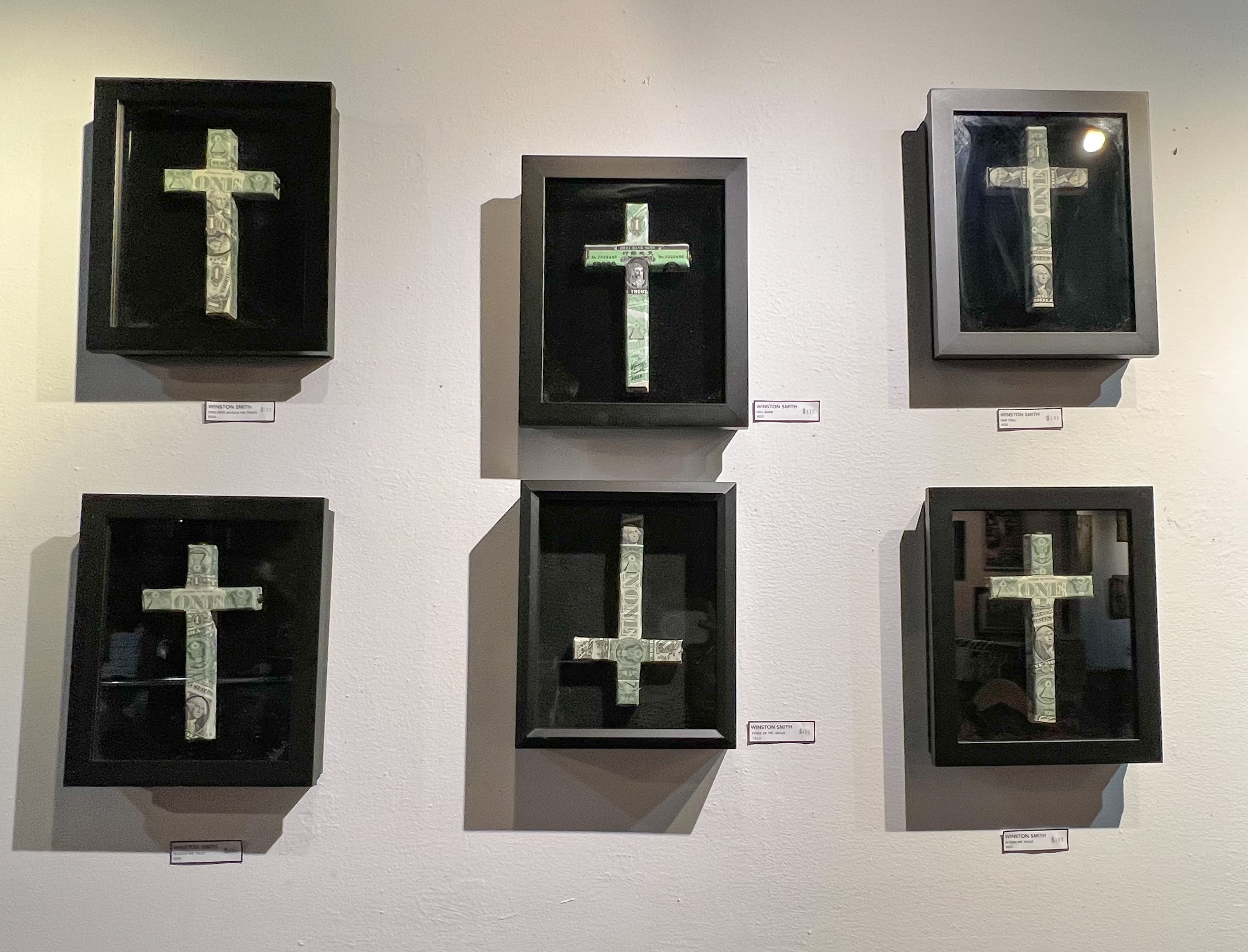 Contributor and punk artist to Winston Smith's "Federal Deserve" series. | Photo: Dorothy O'Donnell
"We've been fans of Winston for many, many years," says Mazlan. "He's such an influential artist. And we're so happy that he gave us this space."
Fallout SF's rotating exhibits also feature guest artists such as legendary photographer Alison Brown, whose black-and-white images capture the raw energy of the early Southern California punk scene. Braun's photographs of punk royalty such as Henry Rollins (Black Flag), Joey Ramone (The Ramones) and Chris Cornell (Soundgarden) are on display until August 14.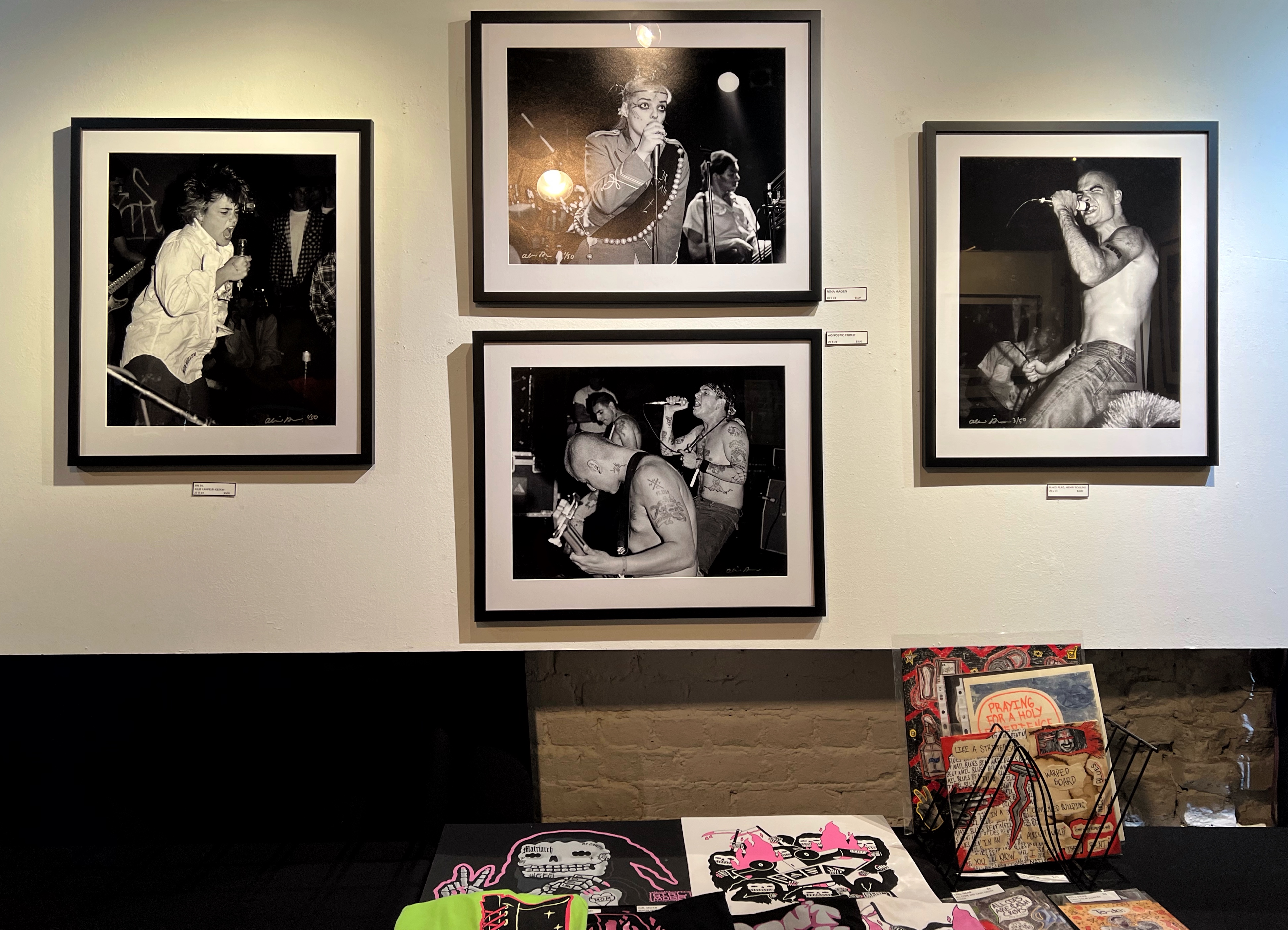 Work by punk photographer Alison Brown. | Photo: Dorothy O'Donnell
"We're looking to have different types of events here like fashion shows, book signings and film screenings," notes Mazlan. "We want to be inclusive and we're open to all kinds of weird stuff."
What exactly does she mean by "weird stuff?" Consider a puppet show with a dark theme. Or a girl who spews fake blood while playing with her band. And then there's this artist who wants to create a chandelier made out of human bones.
Local artists currently rocking the gallery walls include Cliff Glitch, Girl Mobb, Sick Pleasure, Somatic Sulfer and Still Hear. In addition to art, Fallout SF sells band t-shirts, studded leather moto jackets, and other punk apparel.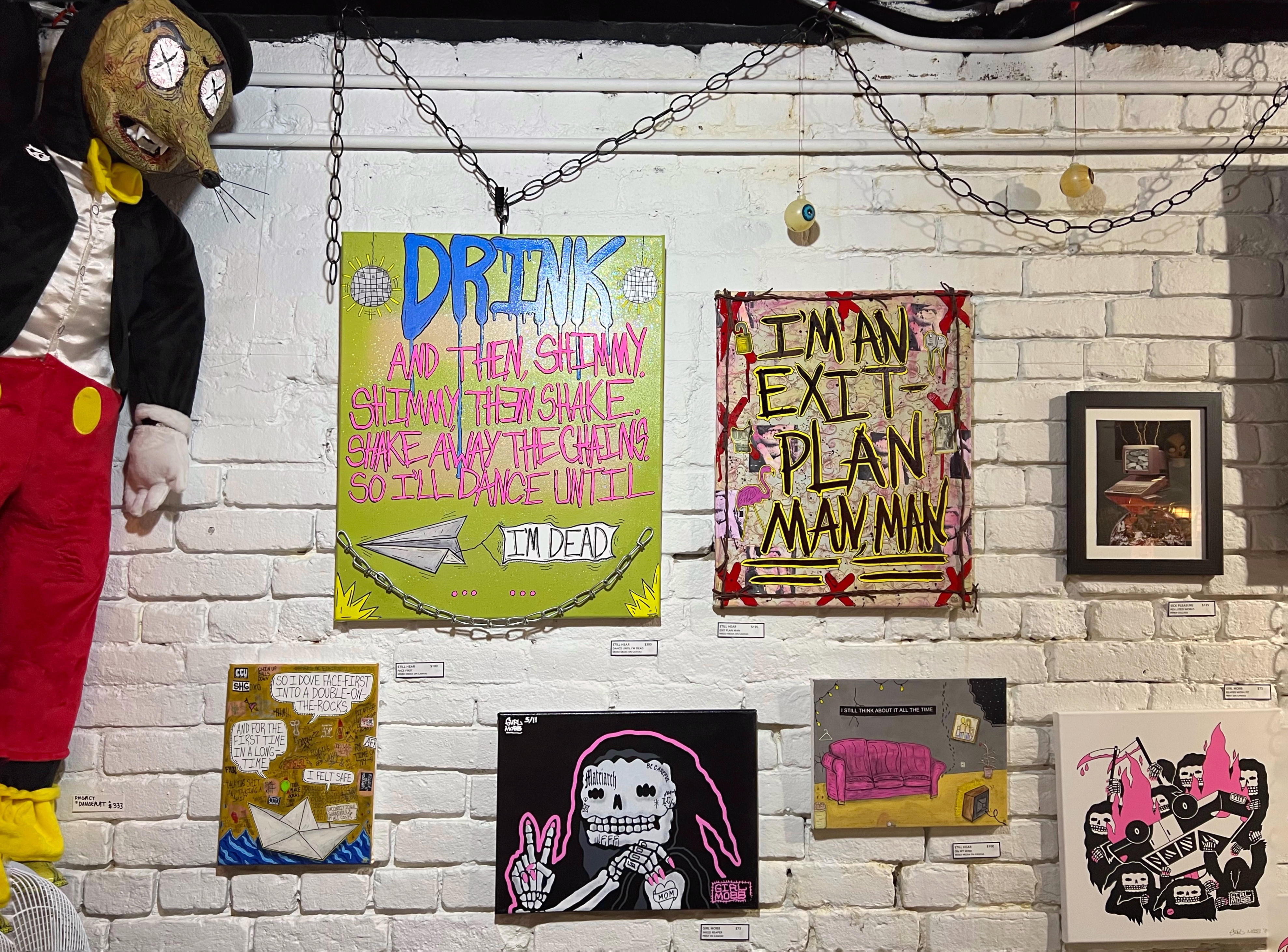 Some of the punk art you can currently see and buy in Fallout SF. | Photo: Dorothy O'Donnell
Fallout SF also hosts a collection of apparel and prints designed by artists from Destroy Art's sister project, All Power 2 the People (AP2TP). Inspired by the community-centered ideologies of the original Black Panther Party, proceeds from sales of these items benefit the legacy work of the Black Panther Party Alumni Legacy Network (BPPALN). Destroy Art encourages its artists to create works that support important social causes.
Fallout SF is located at 50-A Bannam Place. Opening hours are from 1pm to 8pm from Friday to Sunday.