Small towns in rural Michigan have turned successful races and other sporting pursuits into year-round branding — capitalizing on the very aspects that make their community a perfect fit for the event.
The rutted gravel roads that make the countryside around Hastings in southern Michigan ideal for grueling racing also fuel interest in the community as a year-round training destination.
An eerie graveyard of Great Lakes ships in the deep waters off Alpena in northern Michigan beckons scuba divers as well as curious glass-bottom boat tourists.
The rock formations that draw throngs of tourists to Munising in the Upper Peninsula each summer turn icy in the winter, luring climbers and spectators alike, pumping dollars into the otherwise sleepy town.
What do these events have in common, apart from being niche sports at their core?
They are excellent examples of transforming authentic recreational assets into high-profile athletic or endurance-based outdoor events – which have also become transformative as a community asset and brand, says Brad Garmon, director of the Michigan Office of Outdoor Recreation.
Sports competitions and outdoor recreation activities abound in Michigan's small towns, all of which are important and likely to bring dollars to those communities, but the three featured in this story really stand out as prime examples.
"You can only really ice climb on natural ice where the water falls off the rocks and stays cold for a long sustained period," he says. "It's Pictured Rocks, so it can only really exist in this place in time."
Hastings, located near Yankee Springs Recreation Area, offers the perfect combination of back roads, weather and changing elevations to create an exciting gravel course.
The clear waters of Lake Huron and traces of a long history of Great Lakes shipping and mining create a rare opportunity to explore Alpena's past.
These communities are really based on what makes these places special and what makes them memorable, Garmon says.
"That place-making element — that's what I really love about these events. They can help communities not only get some money, but also help the community understand how their assets are seen in the world and how they can attract people," he says.
That is, not just visiting for one event a year, but coming back to train or even start a business, he says.
Gravel bike racing
In Hastings, the county seat of Barry County, local residents in 2009 were initially skeptical about Founders Barry Roubaix Killer Gravel Road Race. They arranged for his 274 cyclists to start out of town at the Long Lake Outdoor Center in the Yankee Springs Recreation Area.
"They didn't want a bunch of people clogging up the center," Garmon says.
Named after the classic Paris-Roubaix professional cycling road race, Barry-Roubaix features rolled gravel roads, pavement, a mile of rough track, rocks, sand, mud and – depending on the weather – snow and ice – along the county's winding roads.
Those road conditions, however, are a hot commodity in the fast-growing sport of gravel biking, and community economic development types saw the potential of the annual event, which takes place most years on the third Saturday in March. They began to host and serve competitors and visitors.
The race now starts and finishes in downtown Hastings and has spawned additional races and events, year-round training activities and even new businesses.
Nicole Like, director of economic development for the Barrie County Chamber and Economic Development Alliance, says that the annual competition has led to the creation of new cycle paths throughout the county, marked by permanent wayfinding signs, and generates economic activity throughout the year; riders return to train on the course and prepare for additional fall and winter rides.
"We've also seen an increase in the use of bicycle repair stations in Hastings and Middleville, and we have at least one new business that has opened — specifically to provide bicycle repair, maintenance and parts, as well as new bicycles," she says.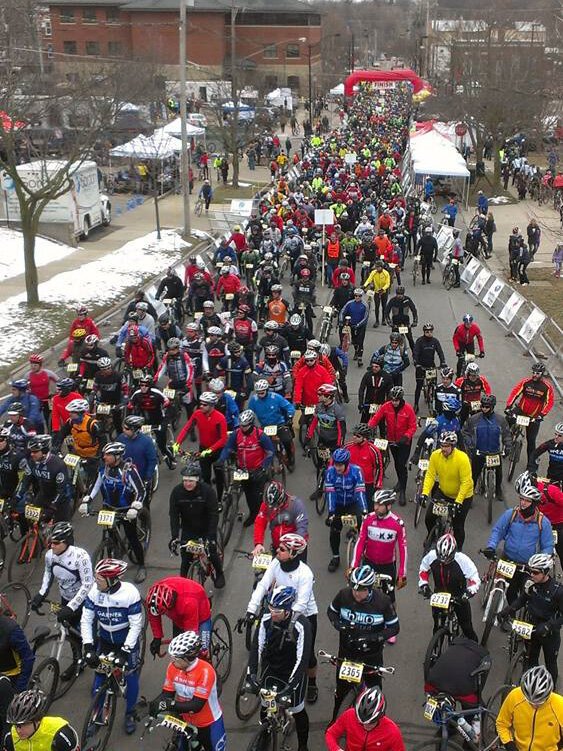 The race is limited to around 4,200 runners and grows each year with new divisions and levels of difficulty – the longest race being 100 miles.
"In addition to the direct impact from the riders, their friends, families and sponsors tend to join them – they stay at the county's hotels, motels and airbnbs and shop at downtown retail stores and eat at local restaurants," Like says.
Dan King, director of community development for Hastings, says the event brings countless spectators and residents downtown on the day of the event.
"The estimated economic impact for this event is between $750,000 and $1,000,000 for Hastings and Barry County. The event has grown so much in popularity that participants return to Hastings and Barry County throughout the year to ride the courses," he says. "These participants are often spotted after their training rides at various local shops and restaurants, spreading economic impact throughout the year."
Michigan Ice Festival
Similarly, Michigan Ice Festival started a little over 30 years ago, but has grown into one of the premier climbing events in the world, giving the summer tourist town of Munising a reason to celebrate winter.
The first Ice Fest in 1991 came about through the organizing efforts of Mark Reisch of Kalamazoo and was "just a handful of people who got together in a bar in Munising to climb together during the day and swap stories at night," says Matt Abbotts , one of the current organizers of the event.
In 1995, Reisch turned the reins over to Bill Thompson of Down Wind Sports, and he added slide shows by professional climbers as a flagship event. Classes and equipment demonstrations have been added to make it easier for those interested in trying the sport, Abbotts says. "All this helped interest," he says, "and participation grew over the next few decades with more than 1,000 climbers attending in 2022."
Several films have been shot about climbing in the area, incl the michigan ice movie, which spread the word about the event even further, making the festival an international destination.
The festival is not without its challenges.
"The weather in UP is pretty wild in the winter," he says. "Many visitors, even those from the mountain states, have never seen a winter like this. But even though it can be a challenge, we definitely love it.
"People will remember a -20F day with hurricane force winds much more than they will remember a calm, relaxing, mild day," says Abbotts.
Another challenge is working in the "off-season" in a small community. Munising sees a lot of visitors, but mostly in the summer, he says, and businesses close in the winter and locals enjoy a reprieve from tourists. "The community is incredibly supportive of the event," Abbotts says, "and we're so grateful for that, but it's a small town and we fill almost every available hotel room."
In the past few years, pandemic aside, more than 1,000 climbers have registered for the event, and based on Park Service numbers, there are likely at least 1,000 spectators as well, if not more.
"Climbing is a growing economic force in the area throughout the winter, not just at the festival," says Abbotts. "A few years ago we launched a guide service that takes climbers all year round, ice and rock, and we run several hundred trips in the winter months."
Shipwreck diving
How did 'Cement City' become a hot tourist destination?
"Shipwreck diving," Garmon says. "People don't realize that scuba diving is a thing here in Michigan, but the story of how Alpena became home to NOAA's Thunder Bay Shipwreck Sanctuary — one of only 15 in the country— and has taken on a new life and identity (even youth hockey is being renamed to match) is great."
Lake Huron's cold waters have preserved more than 200 shipwrecks in and around this designated sanctuary, with places for snorkelers, hobbyists and technical divers to explore some of the nation's best-preserved historic remains.

"They put on a lot of events, including Get Into Your Sanctuary and a film festival, to keep the year-round identity strong," Garmon says.
Divers visit the wreck, but casual tourists can enjoy museumopen year-round for free, or view the ghostly shipwrecks from the surface glass bottom boat tours.
The future
There's room for growth even among activities that are already popular—marathons, bike races, water and snow events—and the trick is for organizers to connect events rather than compete for participants, Garmon says.
Future interests suitable for Michigan may include snowshoe and dog sled racing, stand-up paddleboarding and kiteboarding, as well as other endurance activities.
"I think the idea is how do you bring a community together to discuss what it wants to build on?" Garmon says. "The part I'm trying to bring into the equation from a state level is information about what the trends in outdoor recreation are that you can take advantage of."
Rosemary Parker has worked as a writer and editor for more than 40 years, most of that time in Southwest Michigan.