SciFri Findings is a series that explores new practices in journalism and science communication and their impact on our audiences. Sign up for our newsletter to receive the latest reports!
---
When Science Friday radio producer Shoshannah Bauxbaum pitched the idea for a brain banking segment, what stood out wasn't that brain banks are critical to understanding diseases like MS and Alzheimer's. Or even that brain science still depends on the donation of brain tissue, even as new imaging technologies become widely available. It was that normal brains are underrepresented in brain banks. Brain banks collect brains and other tissue samples to help researchers study conditions related to the nervous system. They learn the most when they are able to compare and learn from different brains, including those who have experienced and those who have not experienced illness, disorder, or trauma. However, brain donation understandably attracts those with pre-existing neurological conditions and their families, and similarly tends to attract older donors who have had time to make post-mortem plans.
As our editorial team set about producing our first radio story on brain banking in February 2022, they specifically sought to I motivate the public to seek information about brain donation whatever answer audience questions about the deeply personal decision to donate your brain after death.
The brain bank story was an opportunity to make a real difference by asking very personal and practical questions about donation, destigmatizing brain disorders and possibly even increasing interest in brain donation among listeners who had never considered it before. Our goal was to convey the science and importance of brain research networks, such as NIH's NeuroBioBank, in an engaging and engaging way, and to connect interested audiences with postmortem tissue donation planning options. To achieve all of this, our audience had to be part of the conversation.
Science Friday's mission to increase public access to scientific information includes providing audience members with a platform to get their questions answered. Our Events Manager, Diana Montano, saw our Zoom production format as a good fit for this effort. Mastered during the pandemic, Zoom's recording format is exactly what it sounds like: A Zoom Call with host Ira Flatow and guest experts, where the audience can listen live and ask questions using Zoom's Q&A and chat features . The magic of these recording sessions is that the final product sounds exactly like the pre-pandemic live version of Science Friday.
The success of our Zoom segments depends heavily on audience questions. However, discussing the fate of one's organs is… weird because it tickles both our morbid curiosities (How do they get it out? Where do they store it?) and our heartstrings (How will my surviving family feel about brain donation? Will it be put my family's diagnosis?). hhow do you make an authentic invitation to a discussion that's weird, interesting, and a little sad? We decided to use humor.
Working with the audience and lead editors on the project, Montano designed social media maps (see Figure 1) to provoke a sense of curiosity and whimsy when talking about the brain. The social media posts and copy on the segment page, the on-air invite, and the shout-outs in the Zoom event newsletter were light and a little silly ("Neuroscientists and zombies have one thing in common – they need more brains!"). Over 350 people registered to participate in the Zoom event, and of those, 197 (54%) ended up attending.
Brain Donation Live Scaling Event on February 4, 2022. The event was hosted by Ira Flatow. Tish Hevel, CEO of The Brain Donor Project (top left) and Bill Scott, executive director of the University of Miami Brain Endowment Bank (top right) were guests.
The Brain Donation Community
The participants in the Science Friday brain donation panel had interests and questions that were as varied as they were surprising. During the hour-long event, more than 90 questions were asked and the discussion generated hundreds of comments and responses (see Figure 2 below). It was interesting to note that more than a quarter (28%) of the questions were about the logistics of the brain bank (e.g. how the brains are stored), a fifth (22.6%) were about the path to donation (e.g. Is there brain donation form? What are the steps?), and more than one in ten (15.1%) are curious about research results (eg reports to family, survey results).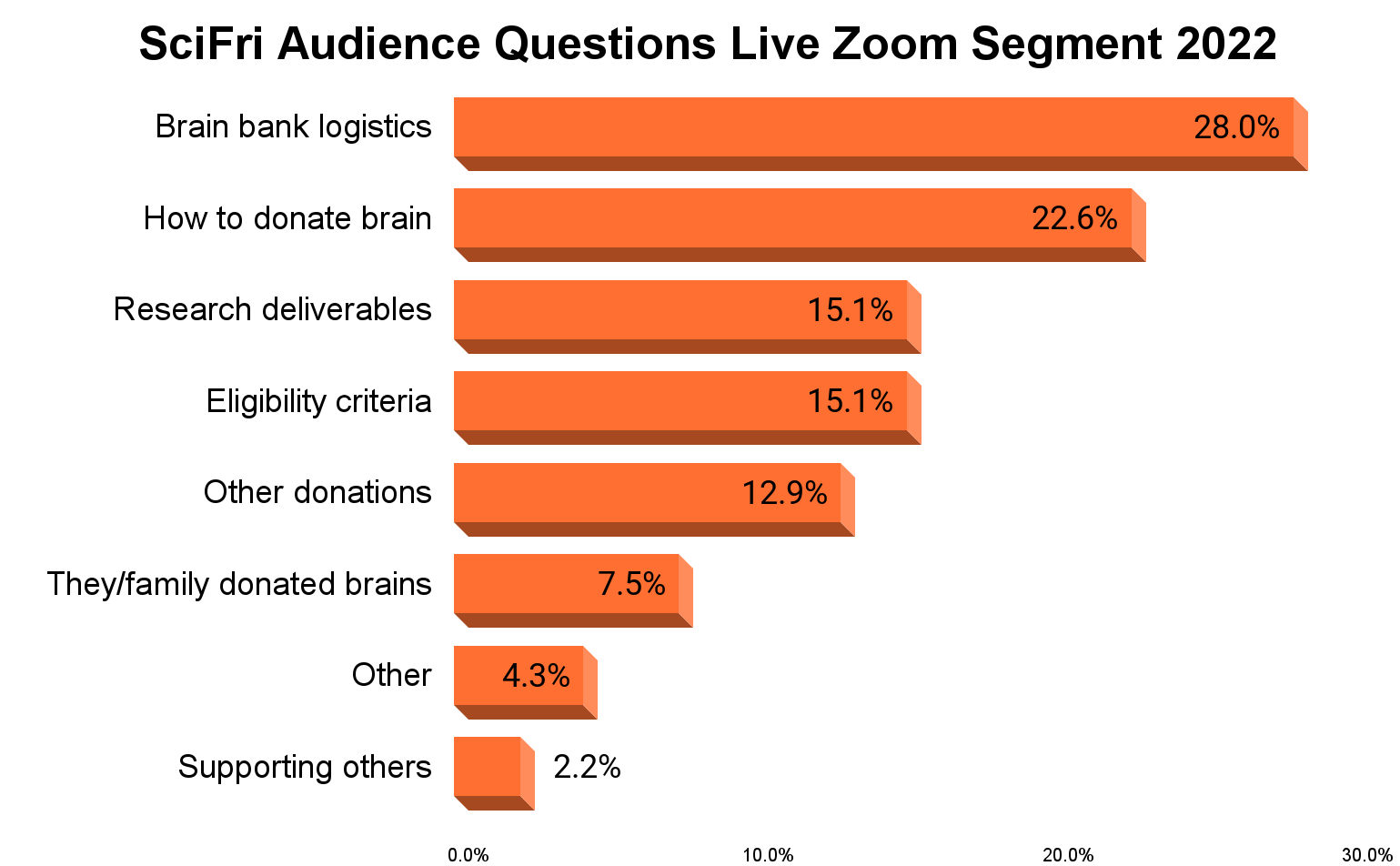 The questions and Zoom chat reflected a deep personal connection to the topic at hand, with many participants identifying as a family member of a recently deceased brain donor or like someone living with a mental disorder or brain injury. There was also one particularly surprising group of participants: Brain bank representatives. Mmultiple researchers joined and participated in the chat, presenting something else brain banks, hoping to attract additional employees.
Bringing the brain donation debate to the radio
After the hugely successful Zoom event, the focus shifted to editing to create a radio segment that would still be valuable as a broadcast conversation. For segments like these, where new information is provided along with an invitation to participate, we see our media as an intermediate step on the way to changing individual behavior, in this case getting audiences to consider and pre-register for posthumous tissue donation for science .
After the edited version of the Zoom call aired the following Friday, we saw an outpouring of gratitude and interest from our radio audience about the brain donation discussion, and by the end of the weekend, the Brain Donation Project, which typically receives 50-100 completed forms for donation interest for one week, received 900+ new brain pre-registrations, a 9x increase in brain donation interest. Over the next four weeks, The Brain Donor Project pre-registered 1,368 new brains for science.
Linked segment
Why should you donate your brain to science?
Designing science media for future impact
An unexpected need from the audience that came up in questions during the Zoom event was the desire to support family members who are considering donation. The impact of the segment extended beyond individual knowledge-seeking behavior to community-level knowledge sharing and support. This was a strong example of how the growing impact of Science Friday wasn't about doing more to recruit our target audience – instead, our audience-led Q&A generated more meaningful discussion and ultimately a powerful segment that connected more brains with science.
Incorporating impact design early in our program planning allowed us to consider audience activation in a measurable way. Humor allowed us to effectively connect with our audience with social media-friendly informality and to address a sensitive topic with kindness and grace. Science journalists and communicators should consider extending genuine invitations to affected audiences and stakeholders and create space for audiences to identify their own information needs. If we use this as a model for developing stories around difficult problems, we might be able to apply similar techniques to problems like climate change or health care.
What might this look like? This could include creating cute stickers for Cephalopod Week live events or digitally sharing amazing photos of animal butts. Humor and dialogue can provide an open door for audiences to access science.
---
Program Objectives
Target results
Entertainment: Provide enjoyable and meaningful engagement to digital and radio audiences
Education: Build a basic understanding of the importance of donated brain tissue for research
Impact: Connect prospective donors to the brain donation pre-registration process
Survey: Analysis of audience questions to identify information needs
Target audiences
People without brain diseases or disorders
A morbidly curious audience
Lifelong learners interested in the brain
Content strategy
Key messages:
Brain tissue is important to the advancement of brain research
Brain donation is a bit sinister, but also important and fascinating
There are simple, actionable steps to planning your brain donation
Channels:
Social media, newsletter and radio event invitation with live recording
Live interview hosted by Zoom and audience Q&A recorded.
Broadcast edited Zoom audio
A digital short link, "www.sciencefriday.com/braindonation" to redirect listeners to the donation pre-registration form.
Rating:
Zoom participants have identified interests and connection to brain donation
Analysis of the content of questions during Q & A among Zoom participants
New brain donation recordings before and after Zoom + Broadcast
Impact Summary
By the numbers:
197 participants in a live recording
90 questions asked by brain bank experts
1368 new brains engaged in scientific research
Additional audiences served:
Brain donation researchers
People living with neurodegenerative diseases
Families of recently deceased brain donors
Meet the writers
Nahima Ahmed |
About Nahima Ahmed
Nahima Ahmed is Head of Impact Strategy at Science Friday. She is a researcher who enjoys cooking curries, discussing identity, and helping the team understand how stories can shape public access and interest in science.
Ariel Zich
About Ariel Zich
Ariel Zich is the Science Friday Auditorium Director. She is a former teacher and scientist who spends her free time cooking, looking at arthropods, and the outdoors.