The University of California, Riverside has received a $3 million grant from the National Science Foundation to train STEM graduate students to conduct research focused on sustainable transportation with the goal of accelerating the transition to low-carbon fuels such as electricity and hydrogen.
Led by Matthew J. Bart, the Marlan and Rosemary Borns Associate Dean for Research in the College of Engineering and former director of the College of Engineering's Center for Environmental Technology and Research, the project aims to decarbonize transportation and other sectors by integrating engineering, social and environmental sciences with public policy .
Most importantly, the five-year project will use a new science-to-policy training program to teach about 80 PhD students to engage stakeholder groups, understand and incorporate their needs into research agendas and effectively communicate science. Students will intern in legislative offices, government agencies, nonprofit organizations, and industry for hands-on career preparation.
"Such engagement with the public and policymakers is essential to addressing climate change, as people and industries must rapidly adopt renewable energy sources and sustainably powered vehicles and technologies," said Bart, the grant's principal investigator. "We are facing a climate crisis and we need to change the way we use energy in our lives, including our transport sector. Our students need to learn not only the technical training on how to achieve this, but also how to translate what they learn into policy to bring about desired changes in society."
UCR SPEAKS
Susan Hackwood, the grant's co-principal investigator, said the multidisciplinary training program, called Science Policy Education: Activating Knowledge for Sustainable Transportation, or SPEAKS, is UCR's first step in transforming graduate education in STEM to prepare better students for any career and translation of socially useful research into public policy.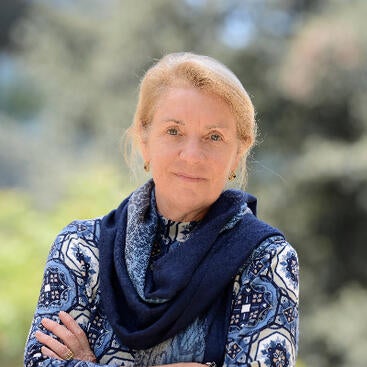 "SPEAKS brings together faculty experts from the engineering, sciences, humanities, social sciences and public policy to create a dynamic learning method," said Hackwood, professor in the Division of Graduate Education and director of UCR's Science to Policy program. "Our students will be trained to understand the needs of society, including the challenges of equity and justice, and engage with stakeholders."
The primary goal of SPEAKS is to prepare academics for political work. Through the program, students will apply their needs-based research and scientific knowledge to inform policy development for the benefit of society. They will be trained in communicating with non-scientists; policy proposal and implementation; user and stakeholder based research; integrated ethics; empowering diversity, equity and inclusion; and career readiness.
"We want our students to excel in every career, from industrial and academic research to scientific consulting and nonprofit work," Hackwood said. "This program is an exceptional UCR collaboration that creates a truly unique opportunity for all of us. The students who work with SPEAKS will be our tomorrow's leaders. I'm so glad that the world will be in their hands because they really care about creating a fair and just technology society."
Let's get technical
To move to a carbon-neutral future, greenhouse gas emissions must be reduced, air quality issues must be addressed, and environmental justice and equity goals must be met. One approach to achieving this is to integrate renewable energy sources into the electricity grid, such as solar and wind power.
"Accelerating the decarbonization of the transportation sector while continuing to integrate renewables into the electricity grid is critical to addressing climate change," said Barth, who is also the Yeager Families Professor of Engineering. "This project focuses on the integration of renewable energy with transportation infrastructure through the electricity grid and the use of renewable hydrogen coupled together with microgrids."
Barth explained that the microgrid integrates renewable energy generation, energy storage and smart operation to provide a sustainable and low-carbon energy system for a building, set of buildings or campus. What's unique about the project, he said, is that renewable hydrogen will be added as an energy source and storage mechanism as part of a microgrid.
He noted that SPEAKS trainees will explore renewable hydrogen as a fuel and energy storage medium; understand policies on sustainability, air pollution and renewable energy; and learn to communicate science to all audiences. They will also develop best practices for human interaction with renewable energy technologies.
"The full transition to zero-emission vehicles requires upgrading the electricity grid, developing new technologies for long-term energy storage, and working with policymakers, the general public and other stakeholders," Barth said. "Our interns will conduct their dissertation research with this in mind."
Multiple players
The other co-principal investigators on the project are Hamed Mohsenyan-Rad, professor of electrical and computer engineering and a Bornes Family Faculty Fellow; Kevin Esterling, professor of political science and public policy; and Jan Stets, Distinguished Professor of Sociology.
"It bears repeating that the climate crisis we face is critical," Barth said. "This crisis is not just an engineering problem, but also requires science, human behavior, education and public policy expertise. Fortunately, UCR already has pockets of that experience. This grant has brought us together to make a tangible difference in the education of our students."