Located in Fishtail, Montana, not far from Yellowstone National Park, Tippet Rise is home to sculptures by Alexander Calder, Mark Di Suvero, and Francis Kere. It is also home to a herd of cattle and a flock of sheep. In addition to being a working ranch, Tippet Rise hosts a solid classical music program in a custom-built wood frame "music barn." But the main attraction is the sculptures, which are spread over 12,500 acres. Founders Kathy and Peter Halsted believe it is important that each sculpture is located in its own valley to give the viewer a continuous experience with the art. "We want to make the invisible visible through art, to give people the freedom to connect, to inspire, to dream," says Kathy Halstead.
One of the artists Tippet Rise has given the freedom to dream is Patrick Dougherty. his piece Cursive takes a breakis a companion to his 2015 sculpture Daydreamsboth made from thousands of intertwined willow branches in a reproduction of a 19th-century school building, the latter the first sculpture built at the art center. Cursive takes a break also extends from the school building, creating rooms for visitors to explore. Made from thousands of willow branches gathered from a nearby stream bed and bent and woven into shape, the structures take on unearthly forms.
Other installations include Beartooth portal (2016), Inverted portal (2016) and Domo (2016) a series of works by Ensemble Studio, the Spanish architectural and sculptural practice led by Anton García-Abril and Deborah Mesa. Each of the three pieces was made by creating molds in the ground to pour large amounts of cement.
Visitors looking for shade and shelter in the rugged terrain can find it at Xylem (2019), an installation by Pritzker Prize-winning architect Francis Kéré. A pavilion by a shady stream, it was assembled from pine trees felled by a beetle infestation.
The Glenstone, a contemporary art museum in Potomac, Maryland, is not an exclusive outdoor experience, but aims to curate "art, architecture and nature in a peaceful and contemplative environment." This summer they debuted a new house pavilion Four rounds: equal weight, unequal measure (2017), a massive sculpture by Richard Serra. Designed by New York-based architect Thomas Pfeiffer in collaboration with the artist, the pavilion is a concrete box lit from above by skylights that span the width of the roof. It's just a spare, foreboding spot perfect for pondering weight and measurement.
The project extends Glenstone's existing architectural language, defined by simple white forms that emerge from a lush, wooded landscape. Other buildings on the site include Phifer's 2018 Pavilions, a cluster of cubic masonry buildings set around a central reflecting pool, and the Gallery, a 2006 building by Charles Guathmay. The new pavilion is situated along a woodland stream and is accessed via an elevated boardwalk, allowing visitors to experience a poignant juxtaposition of natural and man-made forms.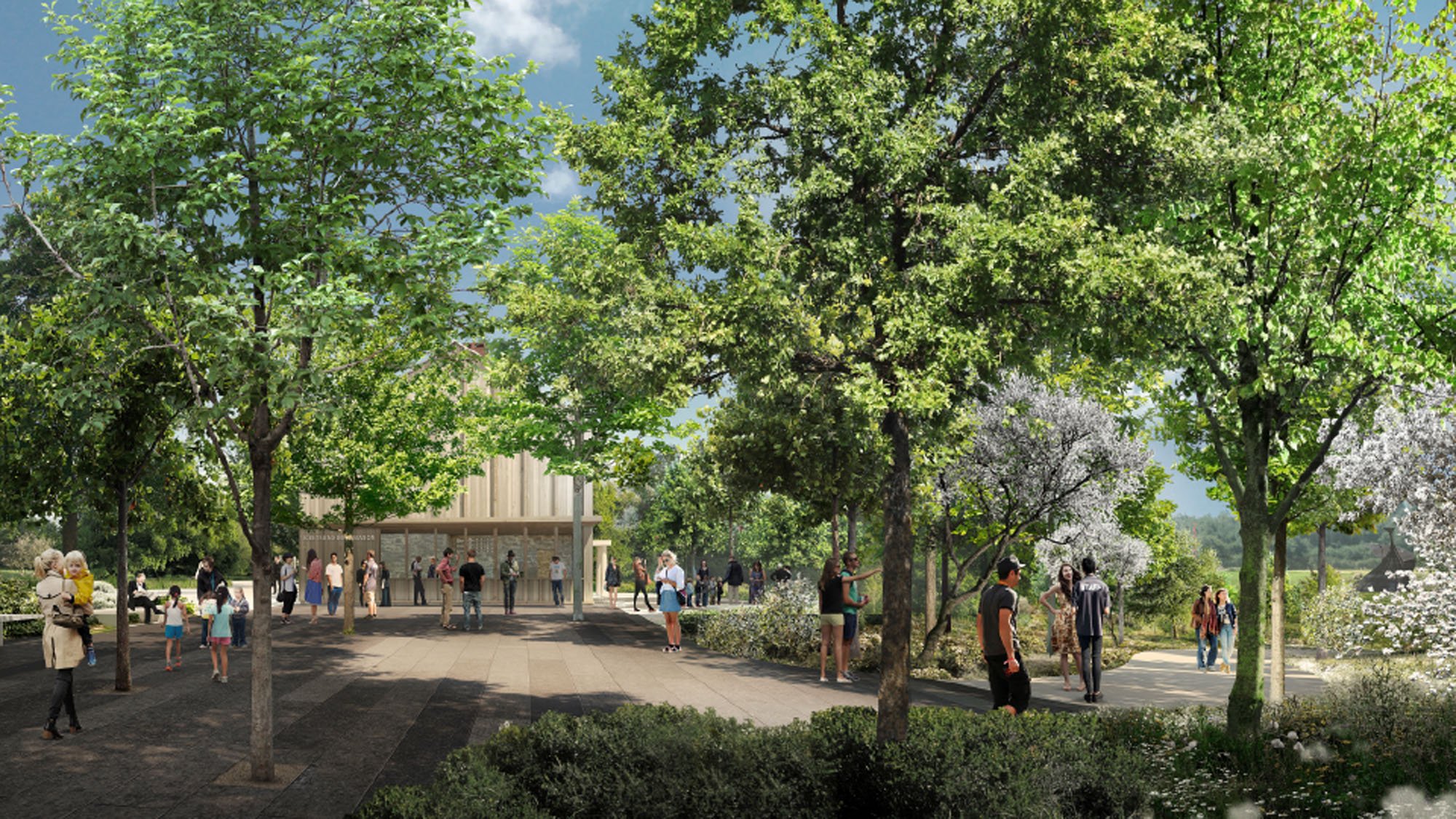 Much needed additions are underway at the Storm King Art Center, which was founded in 1960. The museum has begun a $45 million capital plan to construct a new entrance sequence and art conservation building to better serve the museum's growing audience, artist community and staff.
A collaboration between Dublin-based architects heneghan peng, WXY architecture and landscape architecture firms Gustafson Porter + Bowman and Reed Hilderbrand, the entrance sequence will include centralized parking, visitor orientation and information, accessible restrooms and group gathering spaces. Native plantings will surround and lead visitors through an "outdoor lobby"—a semi-protected area where visitors can pick up tickets, use bathrooms and learn more about the museum and its programming. The plan would also make the 500-acre campus car-free — except for trollies, golf carts and vehicles.
Scheduled for completion in 2024, the project will include the first purpose-built buildings at Storm King and help accommodate more visitors. Amy Wiser, deputy director of strategic planning and projects, says, "Increased attendance is something we're looking for, not just for its own sake, but for the opportunity to share Storm King with more people."
Its location in the Hudson Valley, less than two hours from Manhattan, has made the museum a popular retreat and socially distanced activity during the pandemic. "When we reopened in July 2020, we saw real interest from the public and reflected that people were actually staying longer than usual because of the relatively unique opportunity it offered to be in a safe space," Weisser says. A quick look on Instagram confirms this – there are over 270,000 geotagged posts about the museum's location. There are selfies with iconic sculptures, including new works by Wangechi Mutu, moody photos of artworks and images of landscape and wildflower meadows.
That's the thing about an open-air museum, it offers something for everyone.