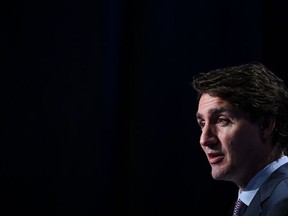 Article content
The Trudeau government showed once again Thursday that when it comes to COVID, they care more about political science than medical science. At the behest of absolutely no one, they announced that mandatory random testing for those arriving in Canada would return as of July 19th.
Article content
As if our airports didn't have enough problems.
"There was no shared science to test fully vaccinated passengers at airports. There is no shared science to pause testing. There is no scientific information shared about reinstating mandatory non-airport random testing for air travelers," said conservative transportation critic Melissa Lantzman.
Fortunately, this testing will be done off-site and shouldn't add to the delays passengers are already experiencing, but there's no need for it at this stage.
At the start of the pandemic, before we knew what was going on, they dismissed calls for increased airport screening as reactionary and racist. Later, because we knew what was going on, we had some experience with the virus, but we still didn't have vaccines, they refused enhanced testing or screening at airports for the same reason.
Article content
When the alpha variant was first discovered in the UK and calls were made for increased screening or testing, the Trudeau government rejected those ideas. The COVID-19 vaccine was here, but it was in short supply. We didn't even have enough for all our nursing homes and introducing a new option was a big worry.
Instead of acting on the country's airports, the Trudeau government said travel was not a problem. They claim that travel accounts for less than 1% of all cases and is therefore nothing to worry about.
They were playing to their liberal base, which saw all calls for passenger screening as racist. It was a deadly political calculation that allowed a new option in Canada, initially unnoticed because they refused to act.
Article content
At the Roberta Place long-term care home in Barrie, Ontario, more than 200 people were infected and 71 people died as a result of the introduction of the alpha variant. Still, the Trudeau government is fighting the border measures.
Now that we have vaccines. Now that more than 93% of the adult population is fully vaccinated and many have received booster shots — especially the most vulnerable — the Trudeau government will not back down on border measures.
Their announcement on Thursday was not just about bringing back mandatory random testing, but that anyone who tests positive must self-isolate for at least 10 days.
"Your 10-day isolation is required, even if the isolation requirement is shorter in your province or territory," the statement said.
Article content
The local isolation period for the four main airports where they will do this — Toronto, Montreal, Vancouver and Calgary — is just five days, according to provincial guidelines. Apparently getting COVID while traveling is worse than catching it in the local community, unless of course your name is Justin Trudeau.
Trudeau returned from a summit in Los Angeles on June 11 and announced on June 13 that he had tested positive for COVID. Yet 9 days later he was on a plane to Rwanda for another summit.
Either he didn't follow his own government's 10-day self-isolation, or that hoarse, congested voice we heard when he held his closing press conference in LA meant he flew back to Canada while he was infected.
LILLY: Trudeau fiddles as economy burns amid rising inflation, interest rates

LILY: Trudeau talks a lot on the world stage, but he says nothing and no one listens

LILLEY UNLEASHED: Trudeau opts out, who will replace him?
Rules for you, not me and all that.
I have spoken to several medical professionals about these new rules and they will say straight out that in the age of Omicron and mass vaccination these rules make no sense. In fact, medical officials are much more outspoken that this is a futile exercise than the airline industry.
The Trudeau government will say it follows science, it's time those who cover this government ask if this is political science or medical science.