UW Extension, Wisconsin 4-H and the Institute for Positive Youth Development are hosting youth events to explore and discover career opportunities.
Madeleine Stein decided to sign up for the 4-H Spark Days, held at the University of Wisconsin-River Falls on Monday, June 20, in part to see if an agricultural career was right for her, but also for fun and camaraderie with other young people.
The 14-year-old Stein from Stratford was part of a seminar taught by Yangmi Kim, an associate professor of agricultural engineering technology, studying the process of food engineering for ice cream.
During the seminar, students used ingredients to make ice cream.
"It was a really great experience to add all the ingredients and wait for the liquid to turn into ice cream," Stein said. "It was fun. There are so many things to do. I wanted to see if I was interested or wanted to do something in the agricultural business."
About 75 students in grades 7-12 attended the 4-H Spark Days, sponsored by Wisconsin 4-H. The all-day event focuses on programs and specialties at the College of Agriculture, Food and Environmental Sciences.
Students learned about cheese production, sheep breeding, animal nutrition and plant science. They were able to tour the Laboratory of Campus Lab Farm and Mann Valley Lab Farm.
Kim, who teaches with Patrick Woolcock, an assistant professor of agricultural engineering technology, said the aim of the seminar was to help students understand how to make ice cream on a large scale.
"I wanted them to understand how the industry works and to understand some of the key ingredients in ice cream to improve the texture, which are milk and air. It is important that young children are exposed to various areas of engineering and activities that deal with food engineering. These are important tasks to ensure that food is processed safely. "It's crucial to our society, but it's a lesser-known engineering," Kim said.
Ice cream was a hit on a day when temperatures rose to the 1990s.
Katie Stenrus, a Douglas County 4-H lecturer who helped organize the UWRF event, said 4-H Spark Days is a new program hosted by the Institute for Positive Youth Development, UW-Extension and the Wisconsin Program 4-H.
"It's about challenging their interests and what they may want to do as a career and give them experience," said Stenrus, a 2017 UWRF graduate in animal husbandry and a master's degree in agricultural education in 2018.
"I volunteered one day because we wanted to make a regional focus," Stenrus said. "I know UWRF is a good school. This is the first-class agricultural school in the state. The CAFES staff was so helpful and I want to thank them for that. "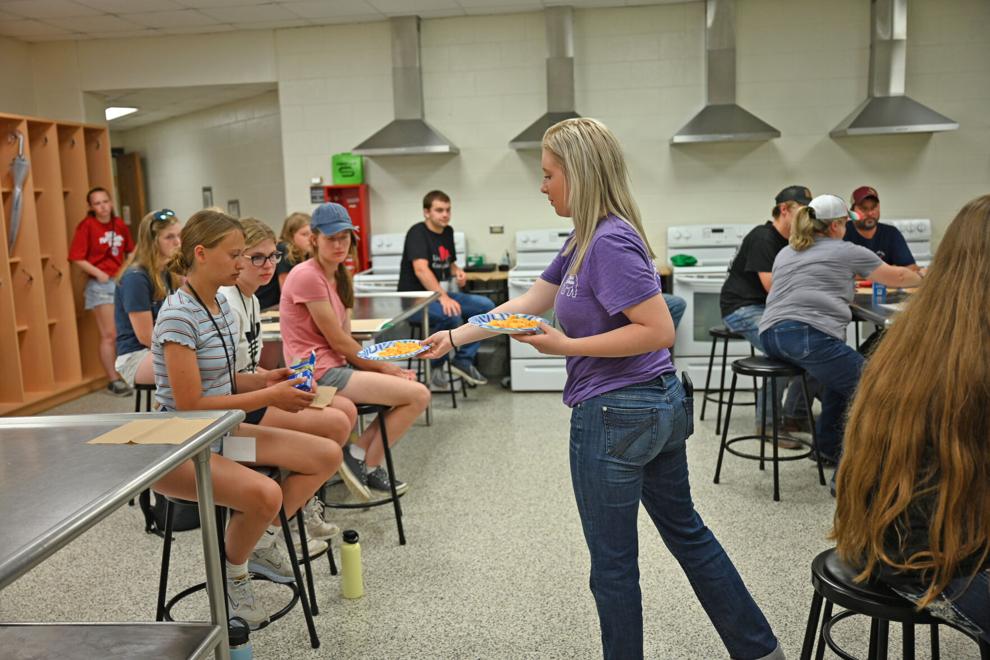 Days of Urban Agriculture / Urban Sparks were held on June 21 at UW-Milwaukee. Students learned about urban agriculture, film, architecture, freshwater science and library science at the university.
UWRF crop professor Veronica Justin showed students the fungus growing on clover using a stereoscope, as well as shared equipment used to test moisture in the campus greenhouse.
"It was exciting to have high school and high school students come to campus and learn what programs we have," Justin said. "I'm always excited to share about plants, how we keep them healthy and have fun careers in plant science."
Michelle Farner, manager of the UWRF dairy, made students try different cheeses and learn about the process of making cheddar cheese during a cheese-making workshop. Students could also see the coagulation of the milk, the beginning of the curd.
The UWRF dairy plant has undergone a $ 6.5 million overhaul to modernize the 30-year-old plant and provide more effective training and education through the introduction of food and security technologies. Fundraising for the dairy continues.
15-year-old Finn Letau from Nine attended the 4-H Spark Days at UWRF at the insistence of his father.
"I really liked it," Letau said. "I learned a lot about sheep reproduction and water quality. I enjoyed seeing the filter we used to learn about water molecules and water quality. It was fun."