BYU coach Kalani Sitake watches the field on the first day of training camp, Thursday, Aug. 4, 2022, in Provo. (Jaren Wilkey, BYU photo)
Approximate reading time: 5-6 minutes
PROVO — These Cougars know what they're doing.
A year after an injury-plagued season like the 2021 campaign and with a returning production that tops most of college football — including quarterback Jaron Hall, wide receivers Puka Naqua and Gunner Romney and an offensive line that includes the candidate NFL draft pick Blake Freeland left tackle — The BYU football team opened fall camp Thursday with a "been there, done that" mentality.
Can you blame them?
It wasn't your traditional opening day, unlike most 'first days of school'. Instead, the Cougars were already knee-deep in offensive installation and scheme adjustments under offensive coordinator Aaron Roderick, eager to improve on back-to-back 10-win seasons that ended on a sour note after last year's Independence Bowl loss to UAB.
Still, the group is as far along as head coach Kalani Sitake can remember in the six years he's led the program.
"We started that in the spring and in player-driven practices," said Sitake, who will lead BYU into its final season as an FBS independent on Sept. 3 at South Florida. "The installation is probably more than we ever did on Day 1.
"As far as the assignments go, I think our guys did a really good job. But we have to focus on improving technique."
So what are the goals of fall camp? Do you need to fine-tune the offense, retool the defense and define a depth chart – most of which have already been defined, discussed and published?
Or is there a more important concern?
These players and coaches know that one goal stands above the rest.
"For me and the guys that have been around, just staying healthy and then honing your skills," said linebacker Ben Bywater, the former Olympus standout who played three different linebacker roles a year ago due to an injury. "It's so easy to go through the motions and not improve after a good year. But for me, and I know for the other guys, it's getting better every day.
"We've always heard that cliché, 1% better, and that for me is staying healthy and then getting better and getting ready for Game 1."
Indeed, others have confirmed that the most important goal is to stay healthy. It's no secret that the Cougars battled injuries last year – and still finished the season 10-3, including wins over Power Five opponents Utah, Arizona State and USC, as well as Mountain West champion Utah State.
Injuries will follow in a sport as brutal as football. But what BYU can't afford is to lose any player before the games start.
With that in mind, both defender Chaz Ah Yu and defender Atunaisa Mahe spent the first day of practice nursing injuries on the sidelines. Others, like Keenan Pilley and Peyton Wilgar, were available for practice but limited to limited minutes and reps — the proverbial "pitch count," to use a baseball analogy.
"If the boys don't practice today, then 90% of them are because they haven't been cleared yet," Sitake said. "In Chaz's case, he's not ready to go and we're not going to force him. We've got another month, we've got some time and we'll work with our specialists to make sure he's ready to go."
Day 1 observations
The offense noticeably struggled during the media-watching portion of practice, roughly the last 20 minutes of the day. That's also in part because the No. 1 receivers often rotated with Hall and the top offensive line — one that featured Kingsley Swamataya rotating with Freeland at left tackle.
There is no reason to worry; it's the first training day, even without pads.
But several defensive players took advantage, including freshman Michael Daley. The newly returned missionary from Lone Peak hauled in an interception early in the media viewing portion and also had a touchdown sack on another play with the reserves.
The depth at linebacker, with Pilley, Wilgar and Bywater, could translate to increased reps at the position for younger players like Daley.
"I'll be real: I really believe in these guys," Bywater said. "I'm not just saying that; we have a lot of great guys. Obviously Max Tully and then Pepe Tanuvasa are back and playing more as a defender. We have Jackson Kaufusi, Tavita Ganier and Morgan Piper. And then we've got a bunch of returned missionaries that have come in: Bodie Schoonover, Tate Romney, Logan Pilley … and then I'm sure I'm missing somebody."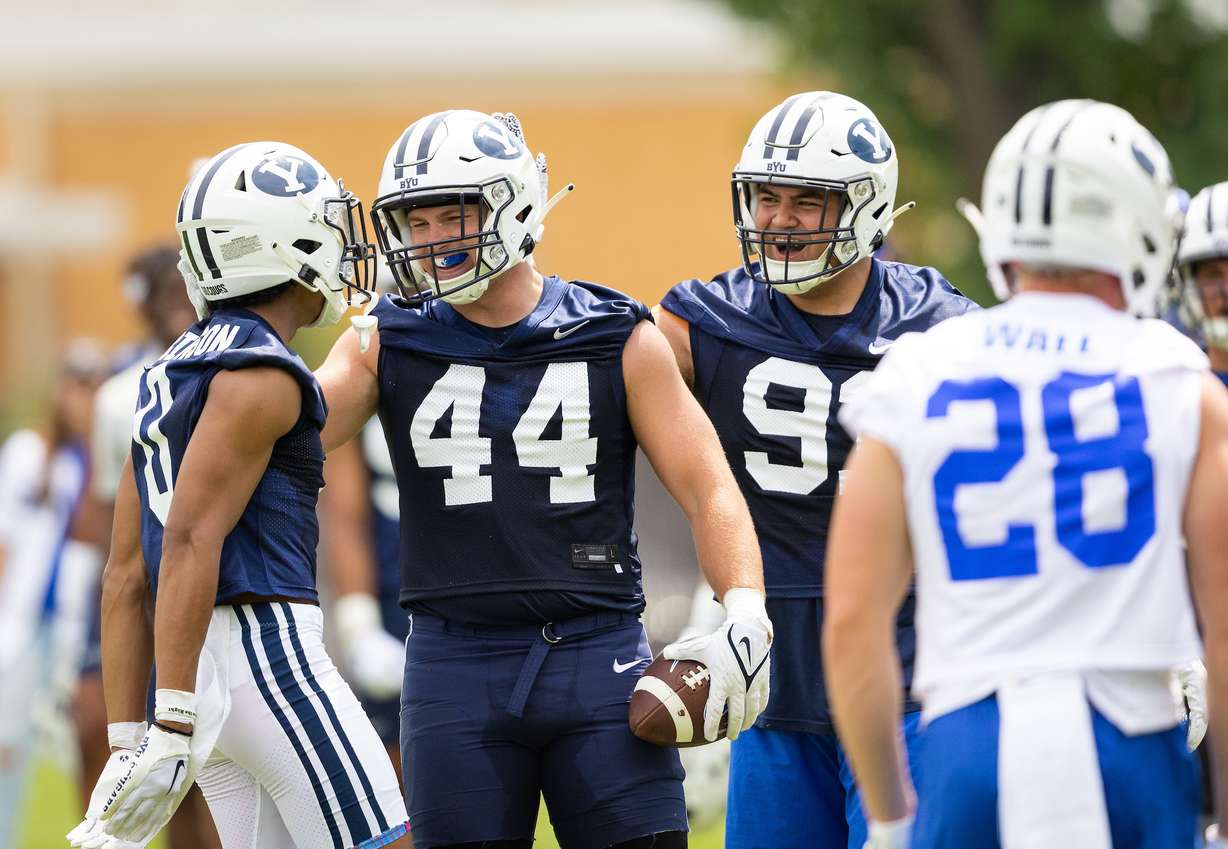 New faces
As is usually the case on the first day of fall camp, several new faces appeared both in the lineup and on the practice field.
Here are other newcomers to BYU's roster, excluding those who were available in spring practice, such as Cal transfer Chris Brooks:
#11 Gabe Jeudy-Lally, CB (Vanderbilt)
#15 Carter Krupp, DB (Freshman)
#28 Tanner Wall, WR (RS-Freshman)
#29 Corbin Green, DB (Freshman)
#30 Kyson Hall, WR (Freshman)
#32 Tate Romney, LB (Freshman)
#33 Nathan Gillis, DB (Freshman)
#35 Zion Allen, DB (Freshman)
#36 Evan Johnson, DB (Freshman)
#38 Preston Rex, WR (Freshman)
#43 Micah Wilson, LB (Freshman)
#44 Michael Daly, LB (Freshman)
#48 Bodie Schoonover, LB (Freshman)
#50 Isaiah Perez, DL (Freshman)
#59 Logan Luthui, DL (Weber State)
#61 Trevin Ostler, OL (Freshman)
I know. 65 Talin Togiai, OL (Freshman)
I know. 66 Sonny Magazine, OL (Freshman)
When. 68 Peter Falaniko, OL (Freshman)
good 72 Sione Weikos, OL (Arizona State)
No. 73 Live Legs, OL (Freshman)
#82 Parker Kingston, WR (Freshman)
#85 Anthony Olsen, TE (Freshman)
#86 Dom Henry, DB (Freshman)
#96 Bruce Mitchell, OL (Freshman)
×
Pictures
The latest BYU football stories
More stories you might be interested in